Pearson CEO Stuck in 'Last Chance Saloon' Faces Investor Wrath
By and
Fallon to visit investors who now question his credibility

Shares drop most on record on U.S. education business slump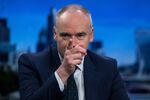 Pearson Plc Chief Executive Officer John Fallon faces the daunting task of securing support from skeptical shareholders after the company lost more than a quarter of its value in its worst-ever day of trading.
Fallon is planning to visit investors after acknowledging major challenges in the company's biggest business, U.S. higher education. On Wednesday, Pearson announced plans to lower the dividend and said it would sell its stake in book publisher Penguin Random House to raise cash. After Fallon insisted just three months ago that markets were improving, the shock of Wednesday's revision has further put the credibility in doubt of a CEO who has repeatedly missed targets since taking the helm four years ago.
"Coming out and saying as recently as October that things were still OK, really will increase the pressure," said Stephen Williams, an analyst at fund manager Brewin Dolphin, which owns Pearson shares. "He was almost in the last-chance saloon."
Pearson stock fell 29 percent Wednesday, the most on record. The company projected operating profit this year as much as 19 percent below analysts' average estimates, and abandoned its forecast for 2018, after missing half-year estimates in six of the last eight reports. Pearson's partner in Penguin Random House, majority owner Bertelsmann SE, said it would consider raising its stake in the venture.
The gloom contrasts with months of optimistic statements by Fallon about the U.S. business, where college enrollments and textbook sales have proved weaker than the company forecast. Now that the Penguin stake is up for sale, Pearson may lose another storied name after recent divestments of the Financial Times and a 50 percent holding in the Economist.

The company's enrollment projections were too aggressive and it underestimated the impact of rising textbook rentals on its sales of those books, executives said on conference calls. The board has asked Fallon and his team to move ahead with their new plan to build a more sustainable and growing digital business faster, he said.
"We will be meeting with shareholders in the next few days," Fallon said. "The board have asked me and the management team to get on, and that's what we're going to do."
It's been a steep decline for Pearson, which was once the darling of the FTSE 100 Index and thrived under the leadership of its former CEO, Marjorie Scardino. Fallon, who took over as CEO in January 2013, at first earned praise as he exited the news business and narrowed Pearson's focus to education. His predecessor once vowed she would never sell the FT. 
For a Gadfly column on CEO John Fallon's performance, click here.
At the start of 2016, Pearson was swimming in cash after disposing the FT and its Economist stake for more than 1 billion pounds combined. But Fallon increased its dependence on an education business under threat from new technologies. Pearson is the worst-performing stock in the FTSE 100 in the new year, and has fallen more than any of its peers in the past five years.
Fallon has failed to integrate acquisitions and "failed to put them into a working model that is suitable for current times," said Williams, at Brewin Dolphin. "You've got to weigh up risk and reward, and if you're cutting the reward in terms of the dividend, you've got to say, 'Is the reward I'm getting from that dividend fair with the amount of risk I'm taking on?"'
With Wednesday's drop, Pearson shareholders lost about 1.93 billion pounds ($2.37 billion) in market value, cutting the company's valuation to about 4.71 billion pounds. Creditors also suffered. The company's 500 million euros of bonds due in May 2025 fell 2 cents on the euro to 98 cents, the lowest since May, according to data compiled by Bloomberg.
Analysts question whether executives at Pearson are capable of managing the structural shifts taking place in higher education: Fewer older students are enrolling, community college admissions are dropping, and more students are renting textbooks, while new entrants such as Amazon.com Inc. pose a major threat.

"Management's credibility is likely to be severely impacted," Ian Whittaker, an analyst at Liberum Capital, wrote in a note. The Penguin stake may raise as much as 1.2 billion pounds for Pearson, he estimated.
Fallon said the company now aims to build digital revenue at its U.S. higher-education division to 75 percent by 2020 from 50 percent currently, by working with more institutions to sign up large blocks of students and cutting electronic book-rental prices by 20 percent to 50 percent.
"It's a difficult time for Pearson," Fallon said.