Obama Says Trump Has 'Room' to Reach Arms Deal With Russia
By and
Says U.S. shouldn't allow Russia to 'bully' smaller countries

Trump has said he would seek deal on sanctions, nuclear arms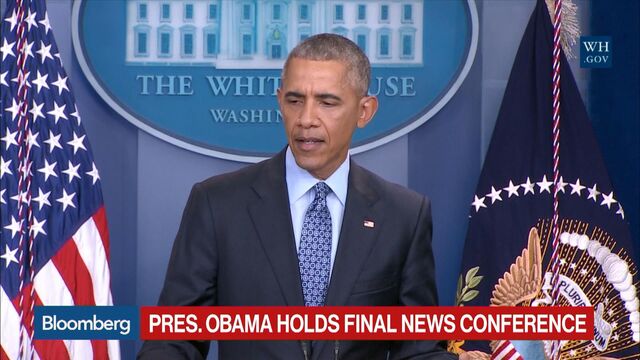 President Barack Obama said that Donald Trump may be able to negotiate a deal to further reduce U.S. and Russian nuclear arsenals, and he blamed Russian President Vladimir Putin for the deterioration of relations between the two countries in his second term.
The treaty Obama negotiated with the Russian government in his first term "substantially reduced our nuclear stockpiles," he said Wednesday during his final news conference at the White House. "I was prepared to go further. They were unwilling to negotiate."
"If President Trump is able to restart those talks in a serious way, there remains a lot of room for both countries to reduce our nuclear stockpiles," he said.
Trump has frequently spoken about Putin in positive terms, and said he wants to improve a relationship fractured by Russia's annexation of Ukraine's Crimean peninsula and Putin's support for Syrian dictator Bashar al Assad. Putin also has praised Trump, and the president-elect has said the mutual admiration would foster improved relations that could benefit U.S. interests.
"If Putin likes Donald Trump, guess what, folks? That's called an asset, not a liability," Trump said in a news conference last week, adding he believed Russia could help in the fight against Islamic State.
Sanctions Deal
Trump said in an interview with The Times of London published last weekend that he would propose to end Ukraine-related sanctions on Russia in exchange for a nuclear arms reduction deal. However, he also said on Twitter on Dec. 22 that the U.S. "must greatly strengthen and expand its nuclear capability," following a Putin speech in which he proposed to improve Russia's arsenal.
Obama said it is worthwhile to pursue cooperation with Russia, but not at any cost.
"It is in America's interest, and the world's interest, that we have a constructive relationship with Russia," Obama said.
But since returning to power in 2012, Putin has engaged in "escalating anti-American rhetoric," Obama said, and approached the U.S.-Russia relationship as a zero-sum exchange in which any U.S. advance must come at the expense of Russia.
"That return to an adversarial spirit that I think existed during the Cold War has made the relationship more difficult," he said.
U.S. sanctions on Russia are based on its actions in Ukraine and aren't related to a nuclear weapons deal, Obama said. "It's important for the U.S. to stand up for the basic principle that bigger countries don't go around and bully smaller countries," he said.
Before it's here, it's on the Bloomberg Terminal.
LEARN MORE