Obama Says He Would Speak Out Against Deportation of Dreamers
By
Addresses undocumented immigrants who arrived as children

Among 'core values' he would act on as an ex-president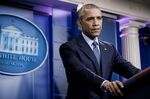 President Barack Obama said he would use his public platform as an ex-president to oppose any effort by the incoming Trump administration to "round up" undocumented immigrants who arrived in the U.S. as children.
Obama said Wednesday at the final news conference of his presidency that he would largely seek to stay out of public debate as President-elect Donald Trump settles into the office but would act to defend what he considers the nation's "core values," including opposition to deporting such immigrants.
Obama used his executive authority in 2012 to block deportation of the group that Democrats and immigrant advocates have dubbed "Dreamers." Trump made curbing illegal immigration, building a wall along the Mexican border and deporting undocumented workers cornerstones of his presidential campaign.
Asked about the "Dreamers" in a Fox News interview Tuesday, Trump said he was working on an immigration plan that would come out over the next two to three months and would be very firm but "have a lot of heart."
"That's a very tough situation," Trump said of the children brought to the U.S.
Among core values that Obama told reporters he would champion after leaving office are preventing "systematic discrimination," attempts to establish "obstacles" to voting or efforts to silence dissent or the press.
'American Kids'
"For me at least, I would put in that category efforts to round up kids who have grown up here and for all practical purposes are American kids, and send them someplace else," Obama said. "The notion that we would just arbitrarily or because of politics punish those kids, when they didn't do anything wrong themselves, I think would be something that would merit me speaking out."
Obama leaves office with a 60 percent approval rating, his highest since June 2009, five months after he took office, according to an ABC News/Washington Post poll. That's higher than Presidents Dwight Eisenhower and John F. Kennedy, while lower than Franklin D. Roosevelt, Ronald Reagan and Bill Clinton, according to the poll. First Lady Michelle Obama, meanwhile, is leaving the office with a 68 percent favorable rating according to Gallup.
Departing White House Press Secretary Josh Earnest on Wednesday reiterated Obama's intention to keep a low profile in the early months of Trump's presidency. Obama doesn't plan to engage on Trump's Supreme Court nominee, Earnest said. That follows tradition established by past presidents including Obama's predecessor George W. Bush.
Obama plans to leave Washington with his family Friday to vacation in Palm Springs, California. The Obamas have rented a home in Washington where they plan to live while their younger daughter, Sasha, finishes high school. The president is establishing a foundation in addition to a presidential center with a library and museum.
Before it's here, it's on the Bloomberg Terminal.
LEARN MORE