Merkel Seen Putting EU Values Ahead of Car Lobby in Brexit Talks
By
German-British trade chamber chief Hoppe comments in interview

Idea of German flexibility in negotiations 'a dream:' Hoppe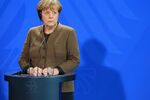 Chancellor Angela Merkel is likely to put European Union principles ahead of the German car industry's interests in her dealings with the U.K. as it prepares to leave the EU, the head of the German-British Chamber of Industry and Commerce said.
U.K. politicians who cite German auto-industry sales as a reason why Britain will be able to strike a favorable Brexit deal should be "realistic" about what concessions they can extract from Merkel's government, said Ulrich Hoppe, director general of the trade association, whose members include Siemens AG, Deutsche Bank AG and Volkswagen AG.
Germany's trade surplus with the U.K. amounts to about 1 percent of the gross domestic product of Europe's biggest economy, and "if 1 percent of German GDP grows slightly less or slightly more, it doesn't really matter to the German economy," Hoppe said in a phone interview on Wednesday. "So the idea that Germany from a business point of view will be very flexible towards the U.K. in the Brexit negotiations is a dream."
U.K. Prime Minister Theresa May on Tuesday said Britain will leave the EU's single market and also its customs union while seeking a trade deal that preserves as much commercial access to the bloc as possible for the U.K., and vice-versa. Merkel, who talked with May by phone after the premier's speech, said she now has "a clear impression" of how May wants to proceed in the negotiation, but stressed her intention to hold the rest of the EU together.
Speaking to reporters in Berlin on Wednesday alongside Italian Prime Minister Paolo Gentiloni, the chancellor said she and Gentiloni were "determined" that talks between the EU and the U.K. won't start until Brexit is triggered. Refraining from talking to British counterparts before Article 50 is invoked also applies to "our respective industries," she said.
"I am not overly concerned that we won't stay united," Merkel said. "The be-all and end-all is that Europe doesn't let itself be divided, and we will ensure this through very intensive contacts."
Delaying Investment
Hoppe said that the EU's four freedoms -- for the movement of capital, workers, goods and services -- will have more influence over Merkel's stance than German companies. The EU's guiding principles are "a key issue for the German government," he said.
Germany exported cars, chemicals and machinery worth about 50 billion euros ($53 billion) more than it imported from the U.K. in 2015, according to German official statistics. Total economic output was 3.13 trillion euros last year.
Hoppe said that anecdotally, about 20 percent to 30 percent of his association's members are delaying investments in Britain, taking a "wait-and-see approach" on the eventual Brexit deal. Siemens Chief Executive Officer Joe Kaeser said earlier this month he's holding back on new U.K. investments until there is more clarity.
Hoppe also said:
The car industry is concerned that a U.K. departure from the customs union will leave them with bureaucratic hurdles including the need for certificates of origin on components
Banks, law firms, biotech and pharmaceutical companies are concerned about immigration controls that may hamper their hiring of experts from the EU
Banks such as Deutsche Bank and Commerzbank AG are restructuring anyway, so it's hard to tell if any job losses in the U.K. are due to Brexit
Immigration Controls
The chamber of commerce last month surveyed its members, finding that 68 percent thought a so-called "hard" Brexit, including withdrawal from the single market, would be negative. Four-fifths said a smooth transition was a priority in order to ensure stability in the currency markets; two-thirds expressed a desire to be able to easily employ workers from the continent; and 64 percent signaled continued access to the single market as a priority.
Merkel "doesn't want to be put under public pressure from German businesses for the upcoming Brexit negotiations," Hoppe said. Brexit "matters to individual German companies, no doubt, but it doesn't matter to the German economy."
— With assistance by Rainer Buergin, and Jana Randow
Before it's here, it's on the Bloomberg Terminal.
LEARN MORE