May Pledges to Protect EU Residents' Rights as Soon as Possible
By
Says in Sun article will build on workers' rights post-Brexit

Vows to deliver a Brexit for 'ordinary working people'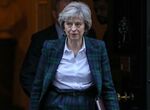 U.K. Prime Minister Theresa May promised to protect the rights of European Union citizens living in Britain and those of Britons in the bloc "as soon as we can," as she pledged to deliver a Brexit for "ordinary working people."
Writing an opinion piece in the Sun tabloid newspaper, May also promised to protect workers' rights after Brexit.
"Under my leadership, not only will the government protect the rights of workers, we will build on them," she wrote. "And we will guarantee the rights of EU citizens living here, and the rights of British nationals in other member states, as soon as we can."
May set out her government's strategy for exiting the EU in a much-anticipated speech on Jan. 17, signaling a "hard Brexit" that will take the U.K. out of the single market and give control of immigration priority over keeping existing relationships with the bloc. She also signaled she was prepared to turn the U.K. into a low-tax, light regulation economy if the EU didn't meet her demands.
"We will continue to attract the brightest and best to work or study here and we will always welcome individual migrants as friends," she wrote. "By leaving the single market and ending freedom of movement, this process will be managed properly."
Before it's here, it's on the Bloomberg Terminal.
LEARN MORE