Kuroda Says Reaching Inflation Target a Little Easier With Trump
By
Bank of Japan governor says too early to think about tapering

Current level of yen shouldn't be a concern, he tells CNBC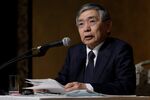 Donald Trump's stimulus plans for the U.S. will also benefit the Japanese economy, according to Bank of Japan Governor Haruhiko Kuroda.
"As U.S. economic growth accelerates and world growth strengthens, of course the Japanese economy will benefit," Kuroda said in an interview with CNBC. "That could make achieving our 2 percent inflation target, or price stability target, slightly less difficult."
Kuroda and the BOJ board next meet to decide on any changes to monetary policy Jan. 30-31, giving them a chance to discuss Trump's plans to cut taxes and raise infrastructure spending, as well as Britain's vision on a post-Brexit relationship with the European Union. They will provide an update on their outlook for inflation and economic growth at the conclusion of the gathering.
Even though Kuroda has recently pointed to a pickup in the economy at home and abroad and expressed strong confidence that Japan will put deflation behind it this year, he cautioned on Wednesday that "it's too early to think about tapering or changing our monetary easing position."
Kuroda's new policy framework focused on yield-curve control, which was introduced in September, has helped reduce concerns about the sustainability of the BOJ's monetary policy. At present the BOJ is pinning its short-term policy rate at minus 0.1 percent and seeking to hold 10-year government bond yields around 0 percent.
Exit Premature
"The real economy is OK but prices are still very slowly moving," he said from Davos, where he is attending the World Economic Forum. "We are still a long way before we can think about exiting from the current extremely accommodative policy. It's too premature."
The central bank's efforts to date on achieving the 2 percent inflation target have fallen far short of its hopes. Core consumer prices have fallen for nine months through November.
The yen's slide of more than 10 percent against the dollar from its 2016 high has reduced pressure on Japanese policy makers and helped exporters.
Kuroda acknowledged the depreciation in recent months but noted that the exchange rate is broadly stable when compared to the previous year, adding that the current level of the yen shouldn't concern Japanese trading partners.
The impact of some policies outlined by Trump, who will be inaugurated as U.S. president on Friday, on the other hand, need to be watched carefully, he said.
While economic stimulus "is definitely good, the other part -- his advocacy of protectionist policies -- could be a matter of concern," Kuroda said. "Protectionist policy isn't good for the world economy, or even the U.S. economy. But on balance, I think fiscal stimulus would dominate the U.S. economy in coming years and could affect positively the world economy."
Before it's here, it's on the Bloomberg Terminal.
LEARN MORE