politics
Samsung Scandal Brings Reform to Fore of Korean Campaign
By and
Presidential favorite says family runs firm like 'emperors'

Samsung heir Lee accused of bribing President Park Geun-hye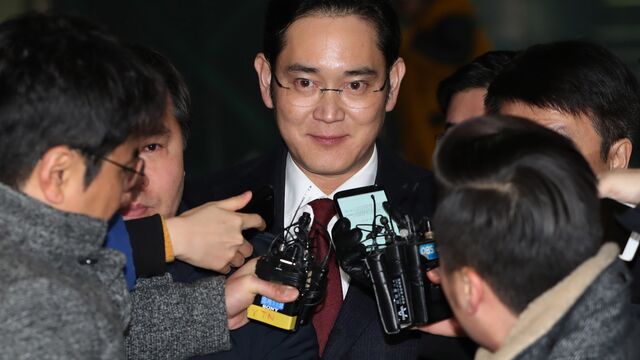 The front-runner to be South Korea's next president said Samsung Group stands at the heart of reforms essential for boosting growth in Asia's fourth-biggest economy.
Former opposition Democratic Party of Korea leader Moon Jae-in told reporters in Seoul on Wednesday that the company needs to move away from the grip of its controlling family. His comments came just hours before a Seoul court decided not to arrest Samsung heir Jay Y. Lee over an influence-peddling scandal.

"Samsung must undergo soul-searching on its anti-market practices and the favors it has gained by forming close ties to politicians," Moon said. "Samsung has so much power it is symbolic when it comes to talking about chaebol reform," using the Korean word for family-run conglomerates.
A special prosecutor accused Lee, 48, of bribing President Park Geun-hye's confidante, Choi Soon-sil, to facilitate a 2015 merger that tightened his grip on the group, and by extension, technology giant Samsung Electronics Co. Samsung has denied that it provided financial aid in return for any favors. The company said after the court decision it "appreciates the fact that the merits of this case can now be determined without the need for detention."
Moon's comments bring reform to the fore of the campaign for the presidency. Previous candidates, including Park, have promised to reform chaebol but have failed to reduce the dominance of the nation's sprawling business empires, which sell everything from cars to memory chips.
Moon said he "owes nothing to Samsung" and would stick to principles in cracking down on chaebol's improper business practices.

'More Democratic'
The ties between politicians and chaebol emerged as a key issue after the influence-peddling scandal involving Park erupted in October. Investigators say Lee paid Choi tens of millions of dollars so she would help him complete his plan to succeed his hospitalized father.
Moon, an opposition heavyweight who was narrowly defeated by Park in 2012, said anyone who violates the law must be prosecuted and that Samsung would be fine even if its vice chairman Lee was put behind bars. Samsung hasn't replied to a request for comment on his remarks.
Moon, 63, said Samsung must become "more democratic" in its decision-making and be run by professional business managers rather than revolve around a single family that has controlled the company over three generations.
Read more: South Korean Scandal May Mean Change of Chaebol Ways: QuickTake
He pointed to a set of bills stuck in parliament over the years to reform chaebol and said he would start by pushing them through if elected. Those bills include a law to prevent financial firms from backing the types of internal mergers orchestrated to help Lee boost control.

Growth Push
Moon said he would seek 3 percent growth in the early part of his presidency and expected it to rise to 4 percent if South Korea implemented reforms that included easing the dominance of chaebol and raising the income of ordinary workers.
South Korea's central bank expects 2.5 percent growth this year after the country probably expanded 2.6 percent last year. Consumer sentiment plunged in December to the lowest level in more than seven years in the midst of the scandal. Risks to the outlook include rising household debt, further political turmoil and possible threats to global trade.
Moon leads former United Nations Secretary-General Ban Ki-moon by about six percentage points in terms of popularity, according to a Realmeter survey released Thursday. A presidential election will take place in 60 days if the constitutional court approves Park's impeachment last month. Ban hasn't formally declared a presidential bid.
A former human rights lawyer, Moon served for a year as former President Roh Moo-hyun's last chief of staff. He took the lead in organizing the late Roh's meeting with then North Korean leader Kim Jong Il -- only the second summit between the countries since the Korean War in the 1950s.
(
Updates with court decision to reject arrest of Samsung's Lee in second paragraph, other comments from Moon throughout.
)
Before it's here, it's on the Bloomberg Terminal.
LEARN MORE