Israel Wants Trump Understandings on Settlements, Minister Says
By and
Justice minister calls to extend Israeli law to Maaleh Adumim

Israel should weigh law shielding leaders from probes: Shaked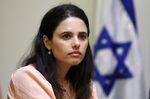 Israel should try to reach understandings with Donald Trump's administration that would allow for intensified construction in West Bank settlements and the possible extension of Israeli law to one of the largest communities there, Israel's justice minister said.
Coordination with the U.S. will be critical as Israel looks for a fresh start after President Barack Obama's adamant opposition to building homes for Jews on those lands, Justice Minister Ayelet Shaked said in an interview in her Jerusalem office.

"We will propose a law to extend Israeli law in Maaleh Adumim," a large Jewish settlement outside Jerusalem, "but we do want to have a dialogue to reach understandings with the U.S. government," Shaked said. Her Jewish Home party opposes the establishment of a Palestinian state incorporating the West Bank, and its leader, Naftali Bennett, has called to annex areas of the West Bank where Jewish settlers live.
That world view collided last month with the priorities of the Obama administration, which in a departure from its usual practice allowed the United Nations Security Council to pass a resolution harshly criticizing Israeli settlement construction. Trump blasted the U.S. for not vetoing the measure, which describes all of the West Bank and East Jerusalem as occupied Palestinian territory.
'Absurd' Freeze
"It's absurd that during Obama's tenure we weren't allowed to build in the settlement blocs," Shaked said. "It's absurd that these areas have had a shortage of housing." 
Israel captured the West Bank from Jordan in the 1967 Middle East war but has refrained from annexing the territory, which would potentially give the vote to more than 2 million Palestinians. It extended its sovereignty decades ago to two other areas seized during that conflict, East Jerusalem and the Golan Heights.
Trump has promised to shake up U.S. policy in the Middle East after he takes office Friday. He's said he'll carry out Congress's 1995 decision to move the U.S. embassy to Jerusalem from Tel Aviv, and has nominated his lawyer David Friedman, a supporter of settlements, as ambassador to Israel. His son-in-law, Jared Kushner, will lead efforts to broker a peace accord.
Embassy Move
The Palestinians, who want to establish their capital in the eastern part of Jerusalem, have warned of repercussions if the U.S. moves its embassy, and have urged Trump to avoid moves that could stoke tension.
Despite the UN's frequent condemnations of Israel, Shaked said the world's passivity in the face of massacres during the Syrian civil war had taught Israel a lesson. 
"It strengthens the feeling here that we have to do what's good for us," she said.
Trump's choice of defense minister, James Mattis, recently told U.S. senators he regards Tel Aviv, not Jerusalem, as the Jewish state's capital. Shaked, who emphasized how much Israel values its alliance with the U.S., said she expects Trump to keep his word on the embassy move.
Netanyahu Probes
Shaked spoke as Prime Minister Benjamin Netanyahu's political survival has been thrown into question by twin criminal investigations. Netanyahu has denied any wrongdoing in the cases, one of which involves the receipt of gifts from businessmen and the other an alleged deal to help a newspaper owner in exchange for more favorable coverage.
As justice minister, Shaked wasn't at liberty to discuss the Netanyahu investigation but said the country should consider a law conferring immunity on sitting prime ministers so the government can continue to function "as normal" during a probe. Such a law wouldn't apply to the current case.
Every Israeli prime minister of the past two decades has come under investigation, and Netanyahu's predecessor, Ehud Olmert, is in jail for accepting bribes. The public needs to consider whether a prime minister really should be toppled for receiving something like cigars, she said, referring to items Netanyahu has acknowledged receiving from benefactors. 
"I hope it won't lead to anything because this government is very stable, very good, and right-wing," she said of the investigations. "I hope these things will be behind us, but you never know."
Before it's here, it's on the Bloomberg Terminal.
LEARN MORE