FIFA's World Cup Expansion Is About Money, Chinese Sponsor Says
By
Soccer's biggest tournament to feature 16 more teams from 2026

Wang Jianlin's Wanda is FIFA's first top-tier Chinese sponsor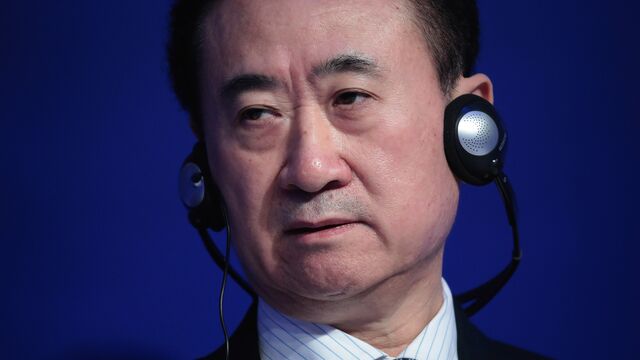 Chinese media mogul Wang Jianlin, the country's second-richest man, said the decision by soccer's governing body to expand the World Cup shows its new leaders are more focused on money than the previous administration.
"I can see their objective of expansion is to make money," Jianlin told Bloomberg News Editor-in-Chief John Micklethwait during a panel at the World Economic Forum in Davos, Switzerland. "That's one thing you can see very clearly, the new FIFA is more focused on income now."

Wang's company Dalian Wanda Group Co. in 2015 became FIFA's first top-tier Chinese sponsor amid the fallout from a corruption crisis that threatened the sporting group's existence and forced out long-term president Sepp Blatter. Replacement Gianni Infantino last week announced plans to expand the quadrennial World Cup from 32 to 48 teams from 2026.
The expansion has received a mixed response, with lesser soccer nations expressing hope of qualifying for sport's most-watched event, while others have said it diminishes the tournament's quality. A representative group for Europe's top clubs said the move was without sporting merit, and based on political considerations.
The increase in the number of teams and matches could boost tournament revenues by as much as 25 percent to more than $6.5 billion, a FIFA report said. Infantino, who promised both more World Cup slots and money to members in his election campaign, said a larger tournament would help grow soccer in new regions.
Atletico Madrid
Since his election in February, FIFA has dispensed with almost all its senior department heads, including the chief of marketing who negotiated the Wanda contract.
"We met different people every few days," Wang said of the transition.
Wanda's other soccer interests include a 20 percent stake in Spanish soccer team Atletico Madrid. Wang said he invested in Atletico as a means to send young Chinese players to train with the team and decided against taking up an offer to buy a majority holding.
"Clubs don't make money, they burn money," he said. "That is why they wanted me to be the majority shareholder, number one shareholder. I said 'no I just wanted to be number two.'"
By sending kids to train in Spain, Wang is playing his part in helping to boost the number of high quality Chinese players. He's among a number of the country's wealthiest businessman who have rallied to President Xi Jinping's call to turn China into a soccer superpower. Its last appearance at the World Cup ended in a humiliating exit with three straight group stage defeats.
Before it's here, it's on the Bloomberg Terminal.
LEARN MORE