Facebook Pushes Back as Germany Weighs Fines for Malicious Posts
by
Company says it takes hate speech, fake news 'very seriously'

Merkel's government working on regulation for social content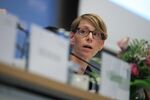 Facebook Inc. defended itself against criticism in Germany that it's not doing enough to combat hate speech and fake news, telling Chancellor Angela Merkel's party lawmakers that ridding its platform of such content is highly complex.
The social media giant takes its responsibility to fight hate speech and fake news "very seriously," but countermeasures shouldn't be applied with a broad brush, because that might have an undesirable impact on free speech, said Eva-Maria Kirschsieper, Facebook's chief lobbyist in Germany, at a conference Wednesday organized by Merkel's Christian Democrat-led caucus in Berlin.
"There are no easy and radical solutions if you don't also accept unintended or unwanted consequences," she told an audience of about 200 lawmakers and members of the public in the parliament building. "It's a highly complex topic in which you can't easily say what's legal and what's illegal."
As Merkel campaigns for a fourth term, her government is increasing pressure on social networks to curb the spread of malicious posts. Her governing coalition is working on draft regulation that would require Facebook and its peers to respond to complaints and delete such content within 24 hours or face fines. If passed, the proposal would be the stiffest regulation Facebook faces in any country where it operates.
Kirschsieper was outnumbered by three senior lawmakers from Merkel's party who lobbed criticism at her. While Germany doesn't want to curtail emotional political debate or free speech, it seeks to ensure that what's illegal in the real world is also illegal online, said Volker Kauder, Merkel's top lieutenant in parliament.
"Social media especially have in recent years become a place where the political opponent is to be dishonored repeatedly every day," Kauder said. "Insults, denunciations and libel are commonplace, and we can't accept this." Justice Minister Heiko Maas will present measures in the coming three to four weeks, he said.
Kirschsieper said Facebook is already deleting illegal content in Germany as quickly as possible and vowed to do still more. Facebook is working on making it "much easier" for users to report fake news, and on having independent fact checkers flag such content, she said.
Before it's here, it's on the Bloomberg Terminal.
LEARN MORE