Europe's Weak Economy Is 'Core Worry' for Adidas Chief Rorsted
by and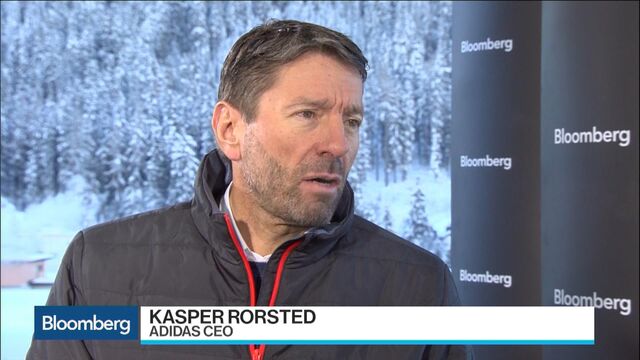 Adidas AG Chief Executive Officer Kasper Rorsted said he isn't convinced of a recovery in Europe's economy even as signs point to a rebound.
"I'm worried that Europe can't get its act together and has been struggling since 2008, which you're seeing in Brexit, you're seeing in the slower economic growth and you're seeing in the unemployment," Rorsted said in an interview with Bloomberg Television at the World Economic Forum in Davos on Wednesday. "That is really my core worry, that we're still very much self-centered and not getting the problems sorted out."
Rorsted's concern contrasts with recent signs that the euro area may be set for a pick-up in economic momentum. Unemployment in the 19-nation region remained at the lowest level in more than seven years in November, as Germany reported a second consecutive increase in industrial output and French business confidence improved.
Adidas is growing "quite substantially" in Europe, though has a very global footprint, Rorsted said. A weak economy in the region "doesn't really impact our business," he said, noting that Adidas's two most important markets are the U.S. and China, both of which are showing sales growth of about 30 percent. The sporting-goods maker gets nearly 30 percent of its revenue from western Europe, making it the company's biggest region.
Rorsted took the helm at Adidas in October, replacing longtime chief Herbert Hainer.
Before it's here, it's on the Bloomberg Terminal.
LEARN MORE