markets
Dollar Overshoot Raises Risk of 'Dangerous Year' in Equities
By
Stephen Jen says history suggests more gain for the greenback

John Taylor expects a dollar shortage to weigh on stocks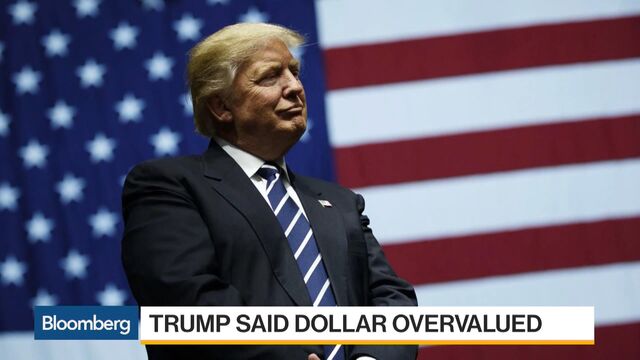 A closer look at when the dollar appreciates above measures of fair value over the last half century suggests that the current rally has more room to run. That may not translate into good news for investors piling into U.S. equities as part of the Trump reflation trade.
"The dollar is overvalued, but currencies tend to push that," said Stephen Jen, the London-based chief executive of hedge fund Eurizon SLJ Capital Ltd. "History suggests the overshoots tend to be very large in size, much larger than one would think are possible."

An additional 10 percent appreciation in the Intercontinental Exchange Inc.'s Dollar Index is very possible, said Jen, who started his career as an International Monetary Fund economist in 1992. That would put the gauge, which tracks the U.S. currency against six major counterparts, at about 111 -- a level not seen since 2002. The index has risen 3.3 percent since Election Day.
Those levels align with the technical indicators of John R. Taylor, whose charts signal dollar gains in 2017 and a swoon for U.S. equities that will make the year mirror 2008, when tightening liquidity conditions helped bolstered the greenback and weakened share prices.
Stocks have added about $2 trillion in value since Donald Trump's election, driven by speculation that his pro-business policies will benefit corporate profits. The rally in stocks has pushed the S&P 500's price-to-earnings ratio to 21, a level that's near the highest since 2002 and a level that probably leaves further price gains dependent on profit growth.
"Our cycles call for a strong dollar -- dollar shortage -- and sharply declining equity market," Taylor, former head of FX Concepts LLC, at one time the world's largest currency hedge fund before it went bankrupt in 2013, wrote in a newsletter he publishes at his current firm, Taylor Global Vision. "2017 is an extremely dangerous year" for the S&P 500 index, Taylor wrote in the Jan. 8 note.

Signs of dollar-funding pressures have already surfaced this year.
The spread of the London interbank offered rate above overnight index swaps, which gauge the outlook for the federal funds rate, widening. The gap, known as Libor/OIS, which trading in the forward market, shows traders see the trend continuing. This gap, dubbed the FRA/OIS spread, has risen to 34 basis points, up from 30 at the end of last year. The Libor spread gauges how difficult it is for banks to fund themselves.
The dollar's gains will be noted in the weeks ahead as having a key impact results during upcoming releases of global corporations fourth-quarter earnings calls, according to Bloomberg Intelligence analyst Tim Craighead.
The slide in the pound since the Brexit vote in June has already wreaked havoc on many corporations. Now heightened currency volatility since Trump's victory is set to be a key driver of returns, investment plans and M&A for European corporates in 2017, Craighead wrote in a Jan. 17 note.

David Bloom, global head of currency strategy at HSBC Holdings Plc in London, isn't quite as optimistic on the greenback as Jen. Still, he says for now the Trump euphoria is something you don't want to discount. That momentum comes on the heels of traders expectations that Trump's proposals, including tax cuts and spending, will bolster growth, inflation and lead to higher U.S. interest rates.
"The Trump-flation people are coming out of the woodwork," Bloom said. "You have to give them their time. This is a dollar-positive environment."
— With assistance by Lu Wang
(
Adds total return on dolalr index in the third paragraph.
)
Before it's here, it's on the Bloomberg Terminal.
LEARN MORE