Dollar Hits Fresh High as Canada Dollar Drop Invigorates Rebound
By
Central banks take center stage; Poloz leads, Yellen follows

ECB meets Thursday; Draghi presser to be eyed for taper talk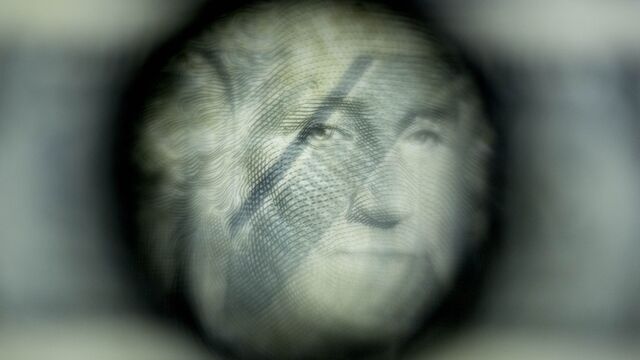 The greenback clawed back more than half of its losses from Tuesday, trading close to its high toward the end of the session as a drop in the Canadian dollar and an upbeat Beige Book injected a fresh burst of energy.
The Canadian dollar fell to its lowest in a week against its U.S. counterpart as Bank of Canada Governor Stephen Poloz reiterated that rates could be cut if needed. Poloz was the first of three central bank heads in the spotlight this week.
The U.S. dollar was already on an upturn before the Poloz remarks, with the greenback paring losses from the prior session as capitulation gave way to some cautious demand from traders trimming positions before an ECB meeting Thursday and the Trump inaugural Friday. The dollar was up about 0.7% as measured by the Bloomberg dollar index, extending gains after the Beige Book noted a tight job market and somewhat intensified pricing pressures.

The Canadian dollar dropped below 1.3200 to the dollar in a sharp move after Poloz said the bank could cut rates if needed, amid tax and policy uncertainty in the U.S. that may affect Canadian exports. At the same time, traders said the BOC was likely also quietly uncomfortable with recent CAD gains that had lifted CAD to ~1.3000.
Fed's Yellen speaks at 3pm ET today in San Francisco and again tomorrow. Her remarks will be parsed for fresh insight into the Fed's stance on monetary policy.
Thursday's ECB policy meeting is expected to keep rates and policies on hold and, while it's probably too early for the ECB to discuss tapering asset purchases, the topic is on traders' minds and Draghi may need to assure markets that any such action is not imminent, traders said. At the last press conference, Draghi asserted that tapering had not been discussed.
EUR/USD ~1.0670 after setting a fresh low at 1.0656 before bids at 1.0650 cushioned the drop; EUR is likely to find technical support at the 55-DMA 1.0626 and may also feel the influence of a large 1.0700 option expiry that rolls off on Friday
GBP/USD remains down ~1% vs USD after briefly paring its drop, making it the second-steepest loser vs USD in the G-10 peer group after the CAD wrested the lead away; GBP remains defensive as traders recalibrate their views after May's Brexit speech Tuesday fueled a more than 3% rally in the pound amid a broader USD sell-off
Before it's here, it's on the Bloomberg Terminal.
LEARN MORE