markets
Poloz Says Rate Cut Remains on Table Amid Trump Uncertainty
By
Central bank holds 0.5% benchmark rate, raises GDP forecasts

Poloz's comments knock about half a cent off Canadian dollar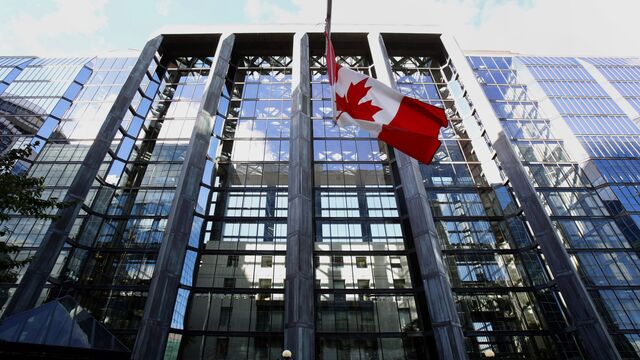 Bank of Canada Governor Stephen Poloz highlighted unknowns around U.S. President-elect Donald Trump's policies in a rate decision and indicated he's prepared to cut interest rates if new protectionist measures derail the nation's economy.
The central bank kept its key interest rate unchanged at 0.5 percent and said "significant uncertainties" from the U.S. are weighing on the economic outlook. These include a shift toward protectionist global trade policies. At a press conference following the announcement, Poloz said he's prepared to cut rates if needed.
"Should any of those downside risks materialize and put our inflation target at risk then we would have the room to maneuver," Poloz said in response to a question on whether the Governing Council discussed the possibility of a cut during their interest rate deliberations this week. "Yes, a rate cut remains on the table and it would remain on the table as long as those downside risks were still present."
Canada's currency responded to Poloz's comments, falling as much as 1.2 percent to C$1.3201 against its U.S. counterpart at 12:20 p.m. in Ottawa. The yield on government two year bonds fell 3 basis points.
Wednesday's monetary policy report is the first since Trump won U.S. elections.
"Uncertainty about the global outlook is undiminished, particularly with respect to policies in the United States," policy makers said in their rate decision from Ottawa. The bank "will continue to assess the impact of ongoing developments, mindful of the significant uncertainties weighing on the outlook."
Several Negatives
Even with evidence Canada is finally beginning to recover from two years of oil-shock pain, Poloz noted several negatives in his rate decision and press conference. In addition to the unknowns, the central bank noted "material excess capacity" in the economy in contrast to the U.S., an ongoing hit to incomes from the oil shock, slowing residential investment and a labor market that has deteriorated.
One theme in the comments from the central bank is that Canada's economic situation is different from the U.S. The drag of a higher Canadian dollar -- off to its best annual start since it became a floating currency in 1970 -- was mentioned both in the rate announcement and opening statement to the press conference.
Higher Canadian bond yields, driven by rising U.S. yields, are also inconsistent with the country's economic outlook, Poloz said.
"While this reaction is consistent with past correlations, it is at odds with Canada's macroeconomic situation where there is material excess capacity, unlike the U.S. economy," Poloz said at the press conference.
Material Consequences
On the plus side, the bank raised its forecast for 2016 and 2017 gross domestic product growth and said the complex adjustment to the drop in commodity prices is largely complete. Solid consumption, along with exports and government spending, will support 2017 growth, policy makers said.
"They are taking the good but warning about the bad," Mark Chandler, head of fixed-income strategy at RBC Capital Markets, said by phone from Toronto. "It's a little surprising that they explicitly included something for the U.S. fiscal stimulus and say there are material consequences from protectionism when that's not in place."
The Bank of Canada said it did incorporate some impacts of new Trump policies into its forecasts. Expectations that the president-elect will add fiscal stimulus in the U.S. should boost demand for Canadian goods, the Bank of Canada said, while lower U.S. corporate tax rates will act as a drag by hurting Canada's competitiveness.
Twenty of 22 economists in a Bloomberg survey predicted no move in rates today, while two predicted a quarter-point reduction.
Protectionist Tilt
Any U.S. protectionism jeopardizes the free flow of $541 billion worth of annual goods trade between the two countries. The Trump team's proposal to impose a 10 percent tax on goods crossing the American border would knock 9 percent off the value of Canada's exports to that country, according to estimates from Montreal-based National Bank Financial.
"The protectionist tilt is already evident," policy makers said Wednesday, listing those prospective measures as a new risk to the bank's 2 percent inflation target.
Inflation has been slower than anticipated because of a drop in food prices, and new measures of core inflation the bank adopted late last year also reflect "material excess capacity in the economy," the bank said.
The report didn't give a detailed forecast of core prices, and said the total inflation rate will quicken to 2.1 percent in the fourth quarter, from 1.4 percent in the same period last year.
— With assistance by Erik Hertzberg, and Luke Kawa
Before it's here, it's on the Bloomberg Terminal.
LEARN MORE