Brexit Bulletin: Deal or No Deal
The British prime minister threatened to walk away from the EU without a deal if she doesn't get her way.
By and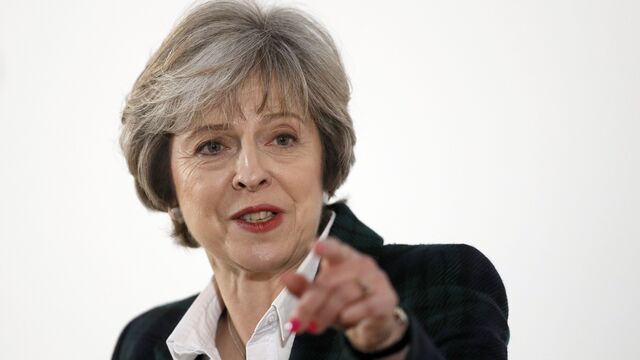 Sign up to receive the Brexit Bulletin in your inbox, and follow @Brexit on Twitter.
Theresa May decided to play hardball to get a "hard Brexit" as she outlined her vision for pulling Britain out of the European Union.
The blueprint involves quitting the single market, ending large payments to Brussels, clamping down on immigration and repatriating law-making powers.
As for future trade, the prime minister wants to customize the EU customs union and replace it with a "bold and ambitious" accord in which Britain and the EU enjoy tariff-free trade yet the U.K. can strike its own commercial agreements with other nations. Her dream deal would take two years to land, would also let London-based banks provide services across the continent with ease, and would grant them and other companies time to adjust to the new order. Brexit Minister David Davis said on Wednesday the adjustment period could be "a year or two."
May said that if she's unable to get what she wants, she would be willing to remove the U.K. from the EU with "no deal" at all, even if that means trade duties. She's "Theresa Maybe" no more.
The message came laced with menace. Although May said she wanted the EU to succeed, she advised that it was "economically rational" for EU governments to share her thinking given the amount of business their companies do with the U.K. An attempt to punish Britain would be a "calamitous act of self-harm," she said. She also suggested Europe's security could suffer and implied she would, if pushed, turn the U.K. into a low tax, easy regulation economy.
The approach carries risks. Many lawmakers at home will worry she could wreck the economy, although she granted them a parliamentary vote on the final agreement–not that that will likely derail the departure.
More importantly, much will depend on how the EU's other 27 nations respond. They may balk at her suggestions and still seek retaliation, perhaps in the form of a large exit bill, to ensure others don't also try to leave.
In trying to secure a great deal, May could end up with no deal.
As a Bloomberg View editorial puts it this morning: 
Though it makes sense for Britain to avoid cowering and to encourage the EU to be friendly, this tough posture isn't all that credible. Selling rock-bottom corporate taxes and light-touch regulation to British voters wouldn't be easy. Europe's leaders know this, and they're unlikely to alter their main goal: Discourage other countries from following the U.K.'s example.
Read more: What a parliamentary vote means and What's next for U.K.-EU trade.
The Reaction
May spent her evening on the telephone to many of her counterparts on the continent, including Germany's Angela Merkel. While she drew praise for clarity, she was again told by officials they won't negotiate before she files her official notice to leave the bloc and that she won't be allowed to "cherry-pick."
Czech Europe Minister Tomas Prouza indicated tensions, while EU negotiator Michel Barnier tweeted that he would protect the interests of the remaining EU states:
Newspapers in the U.K. and Europe took predictably contrasting positions on the speech. Britain's Daily Mail was euphoric, while Germany's Die Welt was anything but.
At home, 51 percent of voters asked by Sky News said they backed leaving the single market. Opposition Labour Party leader Jeremy Corbyn accused May of "wanting to have her cake and eat it" while Nick Clegg of the Liberal Democrats said she had "turned her back on Margaret Thatcher's greatest economic achievement, the world's largest borderless single market." London Mayor Sadiq Khan urged businesses to join the drive against May's plans.
Leave campaigner Arron Banks worried the offering of a parliamentary vote "opened the door to a Remainer coup" and said it "will be a miracle" if May gets what she wants.
British businesses gave a mixed response. They welcomed the added insight and commitment to a transition, yet worried the loss of the single market will cost them trade and the threat of a standoff unnerved them.
Bankers also praised the phasing in of regulations, but said they will continue to study whether to shift jobs to the EU to maintain access to it. In an interview at the World Economic Forum in Davos, Switzerland, HSBC Chief Executive Officer Stuart Gulliver said his firm is looking into moving operations out of the U.K.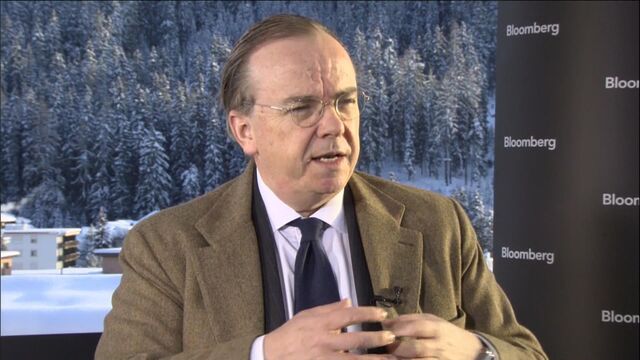 "Activities specifically covered by EU legislation will move, and looking at our own numbers, that's about 20 percent of revenue," Gulliver said. Andrea Orcel, president of UBS, said he'll move jobs too. 
As for economists, May's "fighting talk" could undermine the economy, said Kallum Pickering of Berenberg Bank. By contrast, Kevin Dowd of Economists for Brexit said if done properly, May's plan could boost gross domestic product by four percent. 
On the Markets
The big winner was sterling, which surged against the dollar by the most since 2008 on May's broader strategy and her pledge to let lawmakers have a say on what she negotiates.

The outlook remains cloudy. Bank of America Merrill Lynch says the worst for sterling is over for now, while Deutsche Bank predicted it could still weaken more than 10 percent.
And Finally…
Talk about a tough crowd. Eight EU insiders gathered in Bloomberg's Brussels office on Tuesday to watch May's speech.
Her hard line came as no surprise to Panos Tsakloglou, a veteran of Greece's bailout talks who now teaches at Athens University of Economics and Business.
"If you go into negotiations you talk like that," he said. "You have to say you are prepared to take extreme measures. You have to say you have the nuclear option even if you don't intend to ever use it."
For more on Brexit follow Bloomberg on Twitter, Facebook and Instagram, and see our full coverage at Bloomberg.com
Before it's here, it's on the Bloomberg Terminal.
LEARN MORE