Biggest Saudi Real-Estate Developer Mulls Expansion, Sukuk Sale
By
Company plans to launch multi-billion riyal real-estate fund

Jabal Omar CEO says sukuk will help extend debt maturity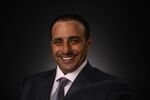 Jabal Omar Development, Saudi Arabia's biggest real-estate developer, is weighing plans to expand beyond its flagship projects in Mecca and may sell Islamic bonds to extend its debt maturity, Chief Executive Officer Yasser Al-Sharif said.
The Mecca-based company is studying opportunities to grow in the Muslim holy city and "maybe Medina in the near future," Al-Sharif said in an interview with Bloomberg Television on Tuesday at the World Economic Forum in Davos, Switzerland.
Al-Sharif spoke shortly after Jabal Omar, which focuses on business activity related to the Muslim pilgrimage, posted first-quarter profit of 79 million riyals ($21 million) compared with a 75.5 million-riyal loss a year earlier. Revenue surged to 311 million riyals from 104.5 million riyals.
Earnings were bolstered by the company's efforts to diversify its revenue beyond income generated from its hotels in Mecca to include shopping malls and residential units, Al-Sharif said.
Jabal Omar has the third-biggest weighting on Saudi Arabia's benchmark Tadawul All Share Index. Its flagship project is a major development located near the Grand Mosque, Islam's holiest shrine, to serve pilgrims.
Al-Sharif said the company has mandated Alinma Investment to start a real-estate fund valued between 6 billion riyals and 10 billion riyals. The fund will allow Jabal Omar to sell hotels and malls to investors and then "lease back at an attractive yield, with the option to buy back after the fourth year for the same book value," he said.
The company is also "really studying" plans to sell Shariah-compliant bonds to extend its debt maturity, Al-Sharif said. The first issuance will likely to be in local currency.