Berkshire's Decker Says Buffett Can Take His Time With Cash
By
Investors will be tolerant waiting for next deal, she says

Decker cites benefits from mix of investment opportunities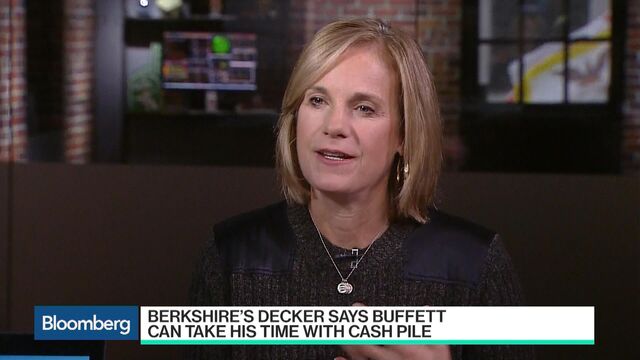 Berkshire Hathaway Inc.'s record cash pile shouldn't burn a hole in Warren Buffett's pocket any time soon, said board member Susan Decker.
"I don't think there's any pressure in the next several years to be returning that cash," Decker said in an interview Wednesday with Caroline Hyde that's airing on Bloomberg Television. "Investors will be tolerant of short periods of time where the cash builds up before the next big deal."
Berkshire had almost $85 billion on its books at the end of September, fueling speculation about what Buffett, the company's longtime chairman and chief executive officer, will buy next. Over the past five decades, he's built the Omaha, Nebraska-based company into a sprawling conglomerate through dozens of acquisitions. It has subsidiaries that range from Dairy Queen to NetJets.
Some of those businesses generate more cash than they need, while others -- like railroad BNSF -- require large capital outlays, said Decker, a former executive at Yahoo! Inc. That combination gives Berkshire an advantage in redeploying resources in a tax-efficient manner, she said.
Even so, the cash has piled up faster than Berkshire has been able to spend it effectively, at times sparking investor calls for a dividend. Buffett has resisted that push, saying that his acquisitions and stock picks will benefit shareholders more over the long term.
Last year, Buffett completed one of his largest deals, the $37 billion buyout of Precision Castparts Corp., a supplier to the aerospace industry. He also purchased battery maker Duracell from Procter & Gamble Co. in 2016.
'The Exciting Part'
Decker said technology companies typically don't fit Buffett's acquisition criteria. The billionaire and Berkshire Vice Chairman Charles Munger have long favored companies with predictable cash flow.
"The exciting part of technology for me and for others is that there is obsolescence,'' Decker said. "But with that obsolescence, and the technology being subsumed by some other company, that doesn't make it as predictable of a business" as what Berkshire likes to target.
Still, Berkshire has taken equity stakes in two established tech giants in recent years -- International Business Machines Corp. and Apple Inc. Buffett's company also briefly held shares of Intel Corp. in its stock portfolio.
Decker said that Buffett, 86, typically doesn't ask her for advice on investments. He looks to directors more for help on succession planning and how to sustain the company's unique culture, she said.
The board is likely to add more women over time, she said. Decker, 54, is one of three women on the panel. The company hasn't added a new director since Meryl Witmer joined in 2013, and the board shrunk to 12 members with the death in 2015 of Don Keough, who was Buffett's neighbor and a former Coca-Cola Co. executive.
"There are some incredibly talented women and men out there that would be great board members,'' Decker said. "We're not necessarily needing a board member at any one time. I think Warren looks at it, and the nominating committee looks at it, very opportunistically.''
— With assistance by Lisa Du
Before it's here, it's on the Bloomberg Terminal.
LEARN MORE