Your Evening Briefing
Here are today's top stories
Bloomberg News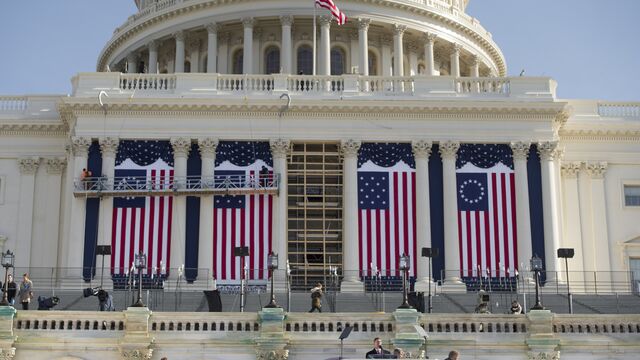 Want to receive this post in your inbox every afternoon? Sign up here.
Good afternoon. What has been an especially unconventional U.S. presidential election season, result and transition will shift to the familiar and traditional for a few hours Friday. The pomp of Inauguration Day, though, is sure to create awkwardness: Tradition dictates the incoming and outgoing first couples share morning tea, and, later, the POTUS and PEOTUS carpool together. –Emily Banks
What to expect on Inauguration Day: Timeless ritual meets partisan rancor. Donald Trump is seeking a "delicate balance between abiding by tradition" and leaving "his own fingerprint on a fresh canvas," said Tom Barrack, the chairman of Trump's inaugural committee. "Mostly he's abiding by tradition especially in the swearing-in ceremony." From morning tea to security, the swearing in and all the logistics of one president moving in and another moving out, here's what to expect later this week.
Theresa May offered her most explicit vision of Britain's future with its EU neighbors, pledging to quit the single market and instead seek a customs agreement with the bloc to deliver "a smooth and orderly Brexit." The prime minister said she would give Parliament a vote on the final Brexit deal.
Snapchat's culture of secrecy will be tested with its planned March IPO. Employees at the company are unlikely to know the goals or strategy of other teams–the only person who knows the full picture is CEO Evan Spiegel, whose prickly opinions about privacy have propelled Snap's trajectory and product. Beyond providing financials, executives during an IPO travel the country and the world for a roadshow to explain their strategy.
South Korea and Nordic countries have the world's most innovative economies. In the battle of ideas, Sweden climbed to No. 2 and Finland cracked into the top five of the 2017 Bloomberg Innovation Index, which scores economies using factors including research and development spending and the concentration of high-tech public companies. The big winner remained South Korea.
Brazilians want their own Donald Trump. The disdain for governing-as-usual has been building for years in Brazil, like in much of the rest of the world. Among the country's potential 2018 presidential candidates: two former hosts of O Aprendiz, the local version of The Apprentice; a Twitter-happy congressman; and a plastic surgeon known as Dr. Hollywood.
With pot prices plunging, growers scramble to cut costs. The increasing supply of legal marijuana is turning into a major buzz kill for growers, but it's an opportunity for companies that can cut production costs. In Colorado, for instance, the average price sought by wholesalers has fallen 48 percent since legal sales to all adults started in January 2014.
See the can't-miss moments from Davos so far. The World Economic Forum in Davos, Switzerland, runs from Jan. 17 to 20. Attended by some of the world's most influential business, political and cultural leaders, the event will host countless networking opportunities and hundreds of sessions. Bloomberg photographers are on the ground documenting the action.

Before it's here, it's on the Bloomberg Terminal.
LEARN MORE