UBS Chairman Axel Weber Says Mood at Davos Is 'Too Gloomy'
By
'I'm quite optimistic' about 2017, Weber says in interview

Credit Suisse's Thiam says this year may be better for banks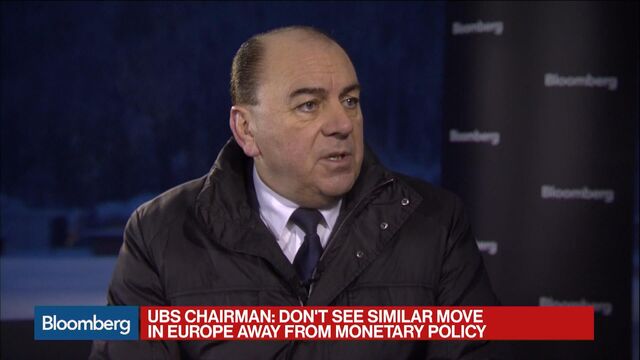 UBS Group AG Chairman Axel Weber said executives and policy makers gathering this week at the World Economic Forum in Davos are too gloomy after the recent resurgence of populism around the world.
"I'm quite optimistic" about 2017, Weber, the former head of Germany's Bundesbank, said in an interview Tuesday with Bloomberg TV's Francine Lacqua. "Usually when I come to Davos, I find everyone is too optimistic. This time around I think the mood is a bit too gloomy."
Almost 10 years after the financial crisis, the global economy has stabilized, Weber said. In the U.S., the Trump administration is taking over a "dynamic" labor market that should help set the stage for further growth. Fiscal measures outlined by the new administration will shift the policy focus away from monetary stimulus to government spending, he said, allowing for a gradual increase in interest rates.
For more on Davos, see our special report on the World Economic Forum 2017.
Tidjane Thiam, who runs cross-town rival Credit Suisse Group AG, said such a move should benefit banks this year, after they struggled with negative or ultra-low interest rates since the end of the 2007-2009 crisis.
Thiam's Outlook
"There is an expectation that '17 will be better than '16," Thiam said in a separate interview. "You have a number of things going in that direction, certainly interest rates."
Both banks have cut jobs and scaled back investment banking amid tighter capital requirements. Thiam said Tuesday that he expects more cost cuts this year in the global-markets division, "but it's not that material." His cost-cutting program will bear fruit in 2018, the CEO said.
"After a year in '16 where you saw revenues go down," Thiam said, "hopefully '17 will be better," though it will depend on the market.
Weber said UBS, which cut back its investment banking after the 2008 financial crisis to focus on wealth management, is looking for "targeted acquisitions" to expand in Asia and the Americas.
"I think the chances here in Davos are" that participants "are going to see more chances, maybe more than in the previous years," Weber said.
Before it's here, it's on the Bloomberg Terminal.
LEARN MORE