Venezuela's Maduro on Trump: 'He Won't Be Worse Than Obama'
By
President Maduro cites 'brutal hate campaign' against Trump

Venezuela wants respectful relationship with U.S., Maduro says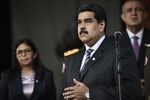 Incoming U.S. President Donald Trump may have an unexpected ally: Venezuela's socialist and much-criticized President Nicolas Maduro.
Just days ahead of the inauguration in Washington, Maduro said he was taking a wait-and-see, but hopeful, stance toward the incoming president, while slamming the record of outgoing President Barack Obama.
"There's been a brutal hate campaign against Trump all over the world," Maduro said late Monday at a news conference with OPEC Secretary-General Mohammad Barkindo in Caracas. "I say let's wait and see. All I'll say is that he won't be worse than Obama."
Venezuela, the South American country with the world's largest crude reserves, has long had an acrimonious relationship with the U.S., the biggest buyer of its oil. Late President Hugo Chavez famously once called former President George W. Bush "the devil" at a speech before the United Nations General Assembly. Tensions flared up again under Obama after the U.S. president implemented targeted sanctions against Maduro's government over alleged repression and human rights violations.
Economic Collapse
Trump's transition team didn't immediately reply to an e-mail seeking comment.
"Obama leaves an Africa destroyed. The Middle East is destroyed and at war. The world is plagued with terrorism. In Latin America, he'll be remembered for three coups," Maduro said, referring to government changes in Honduras, Paraguay and Brazil. "With Trump, we're hopeful. Venezuela ratifies its historic desire to have a relationship of respect and cooperation with the U.S." 
Maduro, who's known both for his prolific use of social media and frequent dancing during televised events, criticized Obama for doing the same thing.
"That's what he's dedicated himself to over the past few months -- posting pictures of himself dancing and having parties on Twitter and Instagram," Maduro said.
Since Maduro took office in 2013, he's presided over an economic collapse that is almost unprecedented outside of wartime, with inflation now in triple digits and shortages of everything from food to medicine increasingly common. Analysts and investors are trying to gauge what attitude the Trump administration will take toward Venezuela.
Geopolitical Changes
Rex Tillerson, Trump's pick for secretary of state, oversaw a clash with Venezuela in his time leading Exxon Mobil Corp. after its assets in the country were nationalized by Chavez. But Tillerson also has a longstanding relationship with Igor Sechin, the chairman of Russian oil giant Rosneft PJSC and longtime ally of both Chavez and Maduro who makes frequent trips to Venezuela.
"Great changes are coming in world politics, and one of those changes will be what they are calling the Trump era," Maduro said. "The era of a unipolar world is over, and Venezuela is part of these changes. We are in the right place, at the right time, and with the right ideas."
Venezuela may benefit if the U.S. pursues the expansionary fiscal policies that Trump promised during his campaign, with higher U.S. inflation reducing the real value of Venezuela's dollar debt, according to Torino Capital's chief economist Francisco Rodriguez.
"For Venezuela to benefit from Trumpflation, Trump's economic policies do not have to work well," he wrote in a report Tuesday. "The less economic growth that Trump polices generate in the U.S., the greater the inflationary effects of a given fiscal expansion. Venezuela may thus be the one country with the most to gain from the U.S.'s attempt to carry out a non-viable set of economic policies."
— With assistance by Jose Orozco
Before it's here, it's on the Bloomberg Terminal.
LEARN MORE