technology
Toshiba Considering Spinoff of Memory-Chip Business
By and
Flash memory operations are Toshiba's most profitable unit

Toshiba is said to consdering selling as much as 20 percent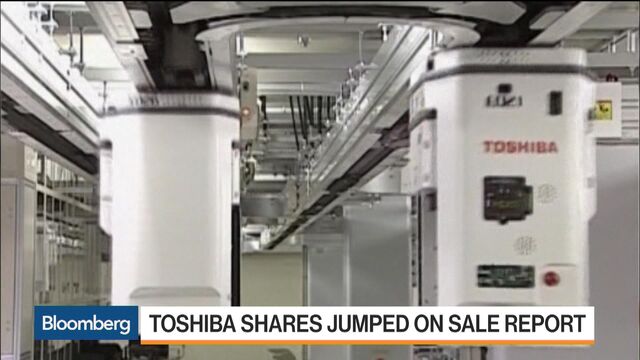 Toshiba Corp., facing billions of dollars of writeoffs in its nuclear business, is considering spinning off its well-performing flash-memory unit to raise funds.
Toshiba is considering an infusion of cash as part of the spinoff, said Kaori Hiraki, a spokeswoman for the Tokyo-based company. While a spinoff is one of the options, nothing has been decided at the moment, Toshiba said in a statement on Wednesday. Toshiba may sell a 20 percent stake in the chip operations for as much as 300 billion yen ($2.7 billion), the Nikkei newspaper reported earlier, citing unidentified people familiar with the matter.
The company's shares jumped as much as 4.9 percent in Tokyo, paring a decline of more than 30 percent since mid-December, when it surprised investors with the disclosure that a U.S. nuclear construction unit may result in billions of dollars in losses. The unexpected writedown follows a profit-padding scandal in 2015 that led to record losses and prompted the company to cut staff and sell off businesses.
Flash memory used in smartphones and solid state disk drives is one of the few bright spots in Toshiba's sprawling business portfolio that also includes personal computers, TVs, railway systems and elevators. Memory chips generated 50.1 billion yen in profit in the fiscal first half, accounting for more than half of total operating profit in the period. The company has shared investments in the business with Western Digital Corp.
A partial sale to Western Digital and possible stock listing are also on table, according to Nikkei.
Earlier this month, Toshiba's main banks agreed to maintain financing for the Japanese company through February, even though recent credit downgrades may make it ineligible to receive loans, according to people with knowledge of the matter.
The potential writedown is related to the purchase of CB&I Stone & Webster Inc., a U.S. construction firm that specializes in building nuclear plants. Toshiba's energy subsidiary Westinghouse Electric bought the firm from CB&I as part of a deal to settle disputes over cost overruns and project delays.
Toshiba originally estimated the acquisition would cost $87 million, but after a detailed accounting review said that figure may swell to several billions of dollars. Bank of America Corp. analysts estimated the deal may result in losses of $4.7 billion, potentially wiping out its shareholder equity. Toshiba said it will present more details after completing a review in the coming weeks.
(
Updates with shares in second paragraph.
)
Before it's here, it's on the Bloomberg Terminal.
LEARN MORE