To Brussels Observers, May's Threats Overplay Brexit Hand
by , , and
EU insiders surprised by May's aggressive tone in key speech

References to Commonwealth 'a bit desperate,' one says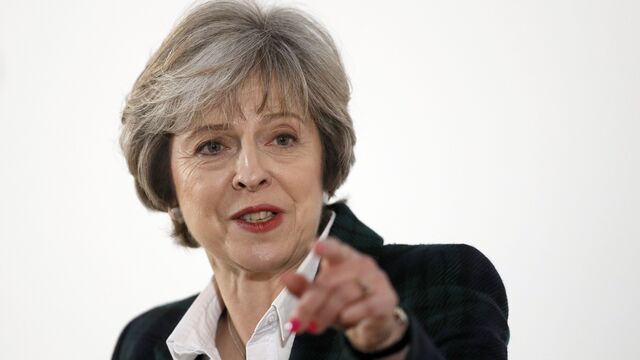 Theresa May played to a tough crowd in Brussels.
The city that hums to the chatter of politicians, consultants and lobbyists from 28 countries found the British prime minister's plans for a free-trade deal with the European Union distinctly unexciting, in parts even delusional, and observers saw little to change the consensus view that negotiations with the rest of the bloc will be tough.
"The most difficult thing for the U.K. to accept is that this isn't going to be a negotiation between two equals," said Tobias Gras, who lobbies the bloc on behalf of Danish farmers. "The EU is a lot bigger than the U.K."
Gras was one of eight EU insiders who gathered at Bloomberg's Brussels office on Tuesday to follow May's speech, as she set out her proposals for the U.K.'s future relationship with the rest of Europe. And while European leaders including EU President Donald Tusk welcomed the clarity and "more realistic" position offered by May, our cross-section of Brussels professionals found less that they could appreciate.
"Going for a clean Brexit at least opens the door for a bespoke agreement and there are parts of the City that will welcome that, but how much appetite is there in the EU to accommodate the U.K.'s wishes?" wondered Michael Feuerstein, a public affairs consultant at Brunswick, focusing on financial services.
May said she is determined to make a clean break from the EU and establish a new framework for trading with member states, warning she would walk away rather than accept a "bad deal" for the U.K. The British premier said both sides would suffer if there was no agreement, and that Britain's relationships with its former colonies like India and Australia gave it a "unique" opportunity to build new trade links.
"References to 'our friends in the Commonwealth' sound a bit desperate," said Constantin Gissler, a German public-policy consultant. "These are big, strong countries now. It's not going to be easy."
British Empire
Italian political analyst Marco Gombacci said May's talk of a "truly global Britain" sounded like a throw-back to the 19th century, when the U.K. was the world's leading power.
"The headline should be The Empire Strikes Back," he joked.
The tough talk came as no surprise to Panos Tsakloglou, a veteran of Greek bailout negotiations between 2012 and 2014, and a professor at Athens University of Economics and Business.
"If you go into negotiations you talk like that," he said. "You have to say you are prepared to take extreme measures. You have to say you have the nuclear option, even if you don't intend to ever use it."
All the same, if Britain had seen foreign investors pulling their money out over the past few months, the prime minister would have had to strike a much more conciliatory note, he said.
Barnier's Threat
"She was speaking very much to the UKIP core of the 52 percent who voted 'Leave,' rather than to the people who voted 'Leave' but actually wanted to maintain a close relationship," said Sam Villiers, a lawyer based in the Belgian capital.
As a Briton working in the EU, communications consultant Tom Fillis has an interest in how May might safeguard the rights of U.K. citizens in the EU and EU citizens in Britain. He was concerned about the potential economic repercussions of the prime minister's proposals.
"If I was in the U.K. now I'd be very nervous at saying we'll pull ourselves totally out of this market and we will go to the U.S.," he said. "If you're going to be totally dependent on your new market, the U.S., then your position is so weak."
As for May's threat that no deal is better than a bad deal, the EU's chief negotiator with the U.K. Michel Barnier threatened back that "agreement on orderly exit is prerequisite for future partnership." Barnier also paraphrased May, tweeting that "my priority is to get the right deal for EU27."
Efthimia Ntivi, a Brussels-based public policy consultant working mostly on single market issues, shares Barnier's approach. "There's no reason for the EU to worry about what she said, although some of the things she said sounded like threats," she said.
Before it's here, it's on the Bloomberg Terminal.
LEARN MORE