Philippine Finance Chief Pushes Tax Hike Plan to Avoid Junk Rating
By , , and
Without tax reform, country faces junk rating: Dominguez

Government starts sale and exchange of global bonds Wednesday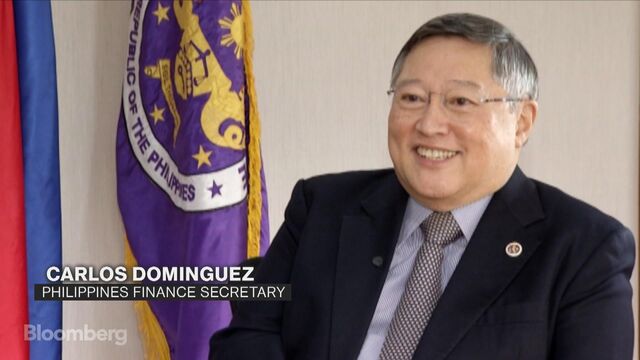 Philippine Finance Secretary Carlos Dominguez said he'll reach an agreement this quarter with lawmakers on a plan to raise taxes, helping to stave off a credit-rating downgrade to junk.
Dominguez said President Rodrigo Duterte won't hesitate to use his political power to ensure passage of key tax changes needed to fund higher state spending. A government-backed bill on the plan was filed at the House of Representatives Tuesday, months after the finance department submitted its original proposal.
"This is a poker game," Dominguez, 71, said in an interview in his Manila office on Tuesday. "There's a point when we have to agree."
The revised version of the tax plan, forecast to yield 162.5 billion pesos ($3.3 billion) a year in revenue and supported by Dominguez, was filed as House Bill 4774. An earlier proposal in September didn't progress as lawmakers balked at scrapping some exemptions for the elderly and disabled, and higher levies on fuel and cars. The increases are meant to offset income-tax cuts that Duterte promised during his election campaign, while also expanding revenue sources.
"We're giving them time, wrapping their minds around it," Dominguez said. "I think we'll get majority support for tax reform. We're working toward a workable, fair bill that requires concessions."
The House Bill reflects some compromises. It will retain exemptions on the elderly and disabled while additional excise taxes on fuel will be implemented in phases through 2019, Finance Undersecretary Karl Kendrick Chua told a briefing on the bill at the Lower House Wednesday. Another 44.3 billion pesos in revenue yearly may come from other proposed legislation including a tax on sugar-sweetened drinks.
Budget Gap
Dominguez warned earlier this week that the nation's credit rating is at risk of returning to junk grade if Congress fails to pass revenue-raising measures along with the tax cuts. The Philippines, among the fastest-growing economies in the world, must fund $160 billion in infrastructure projects in the next five years while keeping the budget deficit under 3 percent of gross domestic product.
"In the absence of a tax package where you have a net revenue gain for the government, infrastructure spending will have to be scaled back to ensure credit ratings remain steady," said Joey Cuyegkeng, a senior economist at ING Groep NV in Manila.
House Speaker Pantaleon Alvarez, among the leaders of Duterte's political party, said on Monday the government must plug loopholes in tax collection before Congress considers new taxes on petroleum.

S&P Global Ratings said last week a reversal of gains in the Philippines' fiscal and external positions may prompt it to lower its BBB debt rating. The nation won its first-ever investment grade scores from S&P, Fitch Ratings, and Moody's Investors Service under former President Benigno Aquino.
Global Bonds
A rating downgrade may boost the nation's debt costs at a time when the government is seeking to raise funds. The Philippines on Wednesday started its latest sale and exchange of global bonds.
The economy will probably expand 6.5 percent to 7 percent this year even as it faces risks from higher U.S. interest rates and rising trade protectionism, the finance chief said. While the currency is under pressure, Philippines can accommodate the peso depreciating to 50 to the dollar as long as the volatility is managed, he said.
The peso rose 0.2 percent to 49.71 per U.S. dollar as of noon in Manila. It touched 49.985 on Tuesday.
Dominguez said the prospect of an extension to the term of central bank Governor Amando Tetangco -- who leaves his post in July -- is "not in the stars," and the preferred candidate to replace him is someone who has worked at the bank.
"The institution is very strong," he said. "There are many potential candidates but you know that I think Tetangco is still the best."
— With assistance by Chris Bourke, and Cecilia Yap
Before it's here, it's on the Bloomberg Terminal.
LEARN MORE