Five Things You Need to Know to Start Your Day
Get caught up on what's moving markets.
By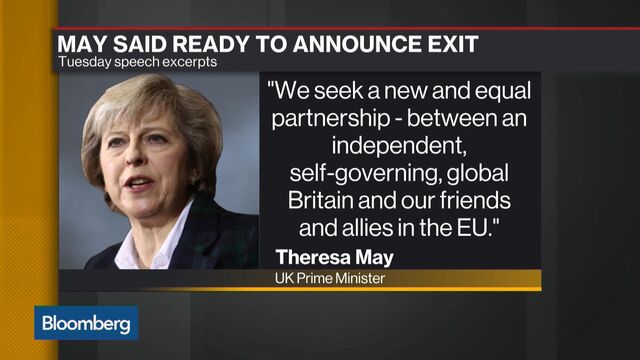 Want to receive this post in your inbox every morning? Sign up here.
The U.K. Prime Minister outlines her Brexit plan, the dollar is weakening, and Saudis see the oil market balanced by June. Here are some of the things people in markets are talking about today.
Brexit details
U.K. Prime Minister Theresa May is due to give a speech at around 6:45 a.m. ET in which she will outline plans for Britain to pull out of the European Union. She will say that she has no interest in "anything that leaves us half-in, half-out," according to extracts released by her office. The pound, which weakened following press reports about the speech over the weekend, was trading at $1.2174 by 5:00 a.m. ET, a level close to Friday's close. Inflation data released this morning showed consumer-price growth increased to 1.6 percent in December, the highest level in over two years, and ahead of economists' expectations for a 1.4 percent increase.
Weakening dollar
The dollar declined against all of its Group of 10 peers and dropped against the yen for the seventh day, with that currency trading as high as 113.01 to the greenback. The acceleration in selling came after a Wall Street Journal story cited President-elect Donald Trump as saying the dollar was already too strong. The move has also seen gold rise to $1214.39 an ounce by 5:13 a.m. ET, its highest level since Nov. 23. 
Saudi's plan early exit
Saudi Arabia says the agreed OPEC cuts can end by mid-year, as the market rebalances. According to Bloomberg calculations, removing the production curbs when the current deal expires in June would not be enough to eliminate the entirety of the global stockpile-overhang. Saudi Arabia's Energy Minister Khalid Al-Falih said that many countries are "going the extra mile" in making deeper production cuts. A barrel of West Texas Intermediate for February delivery was trading at $53.28 by 5:22 a.m. ET.
Markets slip
Overnight, the MSCI AC Asia Pacific Index fell 0.4 percent, while Japan's Topix index dropped 1.4 percent as the yen rallied against the dollar. In Europe, the Stoxx 600 Index was 0.5 percent lower by 5:21 a.m. ET as investors waited for May's Brexit speech. S&P 500 futures also slipped 0.5 percent. 
Davos
The annual World Economic Forum meeting in Davos, Switzerland is underway this week, and among the early speakers is Chinese President Xi Jinping, his country's first head of state to address the meeting. In an interview with Bloomberg this morning, UBS Group AG Chairman Axel Weber said that the mood at the meeting was too gloomy, saying the possibility of worsening trade relations between China and the U.S. would be an opportunity for European countries.
What we've been reading 
This is what's caught our eye over the last 24 hours.
Before it's here, it's on the Bloomberg Terminal.
LEARN MORE