May's Brexit Hardball Raises Chances of All-or-Nothing EU Deal
By
Prime Minister's speech was a mixture of offers and threats

May suggests U.K. is prepared to walk away hurting both sides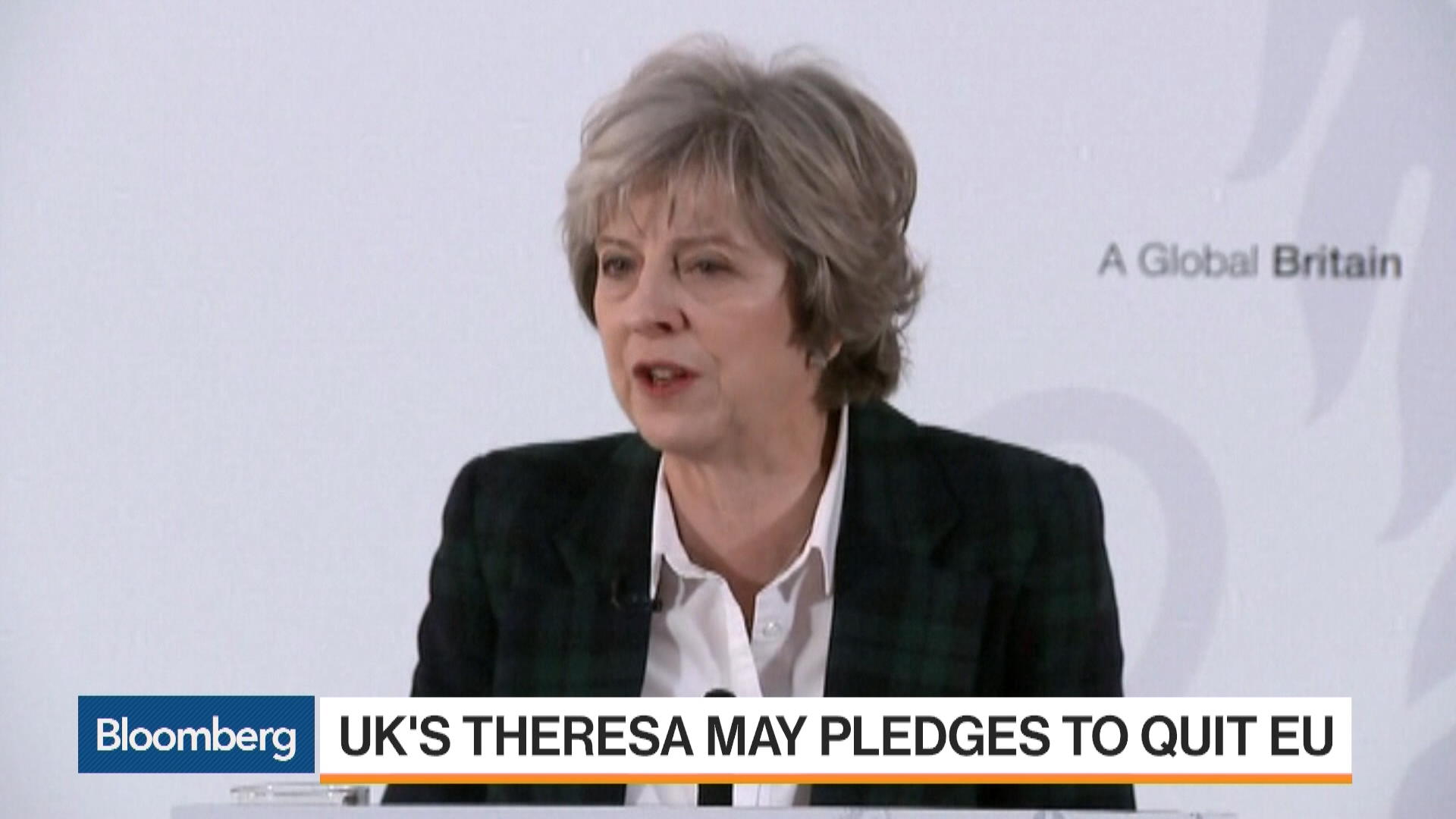 U.K. Prime Minister Theresa May is playing hardball as she pursues a "hard Brexit."
Her agenda is now to leave the single market, quit sending large sums of money to Brussels, clamp down on immigration and restore law-making powers to British politicians and judges.
In her much-anticipated speech on how she wants to withdraw Britain from the European Union, May interpreted June's narrow vote as a clarion call for change. Instead of the EU membership that evolved over four decades, she told an audience of European diplomats in London on Tuesday that she wants to customize the customs union and deliver a "bold and ambitious" fresh trade deal with the bloc.
Her ideal accord would allow tariff-free trade between Britain and the EU, while she would secure the liberty to strike new pacts with other countries. London-based banks could still provide services across the continent with ease and get time to adjust to the new order.
May's speech put to rest recent suggestions that the premier should be dubbed "Theresa Maybe," for being too cautious to act. Having slid ahead of it on concern over what she had planned, the pound enjoyed its biggest surge against the dollar since 2008 on the guarantee of a vote in Parliament.
Her aim is to achieve her wish list in the two years allocated for divorce talks despite skepticism that is possible, given that any trade pact would need the sign-off of all 27 EU members. Failure to get what she wants would mean her taking the U.K. out of Europe with "no deal'' at all, she said.
Fall-Back Position
"One might expect a successful negotiating strategy to have ambitious objectives and a credible fall-back position,'' said Malcolm Barr, an economist at JPMorgan Chase & Co. "May certainly has the former, but we doubt the prime minister has the latter.''
To those in Europe who blanche at such ambition, she said signing up to her model would be "economically rational" for them since the U.K. is "a crucial -- profitable -- export market" for its companies. She warned those who want to punish Britain for its decision to leave that they would be conducting "an act of calamitous self-harm."
Such a tough approach carries risks. It will almost certainly trigger a battle between the premier and pro-European lawmakers at home who worry she could still wreck the economy. She sought to deflect their attacks by promising a parliamentary vote on the final deal.
Over to Barnier
The shape of the final agreement also will not, ultimately, be up to May. It will be the views of the other EU member states, molded by EU chief negotiator Michel Barnier, which will be decisive.
EU officials welcomed May's new-found transparency, while repeating their long-held lines that they won't enter negotiations before May formally says she wants out and that the U.K. won't be allowed to enjoy the full advantages of EU membership without accepting the responsibilities.
Businesses gave a mixed response. While they welcomed the clarity and the signal of a transition, they worried May is sacrificing trade to deal with social issues and regain sovereignty. Bankers said they will continue studying whether to shift jobs to the EU to maintain access.
Years Away
The ultimate verdict on May's strategy potentially remains years away. Only when the final details of any new U.K.-EU trade agreement are clear, after as many as two years of discussions, will it be possible to evaluate the prime minister's approach. Everything now rides on how the EU reacts.
In her speech, May mixed sweetness with spice. While the U.K. wants to be "reliable partners, willing allies and close friends'' it will also fight back if the EU decides to punish it, she said.
Retaliation against the U.K. "would not be the act of a friend,'' she said. "Britain would not -- indeed we could not -- accept such an approach.'' One way Europe could strike back is to present May with a large exit bill totaling billions of euros and use the timing of talks on transition as a negotiating chip.
What exactly the prime minister would be prepared to do in the event a deal cannot be reached was not fully spelled out. She talked about action to radically cut business taxes and attract the best and biggest businesses away from Europe to the U.K.
She also implied that the current joint working on security, intelligence and military collaboration could stop, an outcome that May suspects would hurt Europe more than the U.K. She mentioned Britain's highly-rated intelligence services four times in her speech -- the same number of times as she said the words "customs union."
The question will be whether May's gamble pays off or whether she's repeating the same mistakes her predecessor, David Cameron, made in last year's referendum. Just as he underestimated the willingness of voters to risk economic prosperity in exchange for gaining control over law-making and immigration, May runs the risk of failing to see the importance to Europe of protecting the EU as a political project, whatever the cost.
May's game of hard ball might increase her chances of achieving the best deal possible, but also of ending up with nothing.
Before it's here, it's on the Bloomberg Terminal.
LEARN MORE