May Hits the Phones With Key EU Players to Pitch Her Brexit Plan
By
Premier speaks by phone with Merkel, Hollande, Juncker, Tusk

European leaders welcome clarity, partnership plan, U.K. says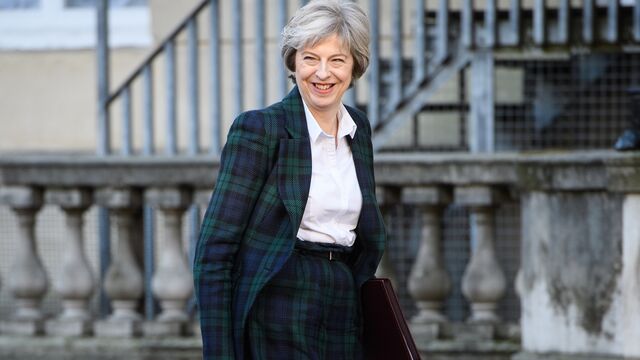 Prime Minister Theresa May called key European Union leaders one by one as she began the process of selling her plan for a new Brexit trade deal to the other 27 countries in the bloc.
Speaking by phone from London, May told her German and French counterparts as well as European Commission President Jean-Claude Juncker and European Council President Donald Tusk that while the U.K. would be leaving the EU single market it still wanted "the greatest possible access" in the form of a free-trade agreement, her office said in an e-mailed statement on Tuesday.
The round of conversations came after May delivered a detailed blueprint for Brexit in a speech in London earlier in the day. The statement said her clarity was welcomed by Juncker and Tusk, who said he would negotiate in a "spirit of good will." Their support, along with that of the two biggest European economies, will be critical to her chances of making good on her plan.
In her speech, May warned the EU not to try to "punish" Britain for leaving, saying that a good new trade agreement is in the best interest of all. May has promised to open formal negotiations by triggering Article 50 of the EU's Lisbon Treaty by the end of March.
As for Germany's Angela Merkel and France's Francois Hollande, both welcomed May's "commitment to the continuing strength of the EU, and her intention to negotiate a new partnership with the EU," May's office said.
Before it's here, it's on the Bloomberg Terminal.
LEARN MORE