Fed Unlikely to Snuff Out U.S. Economic Expansion, Dudley Says
By
'Inflation is simply not a problem,' New York Fed chief says

Stronger dollar will put downward pressure on prices: Dudley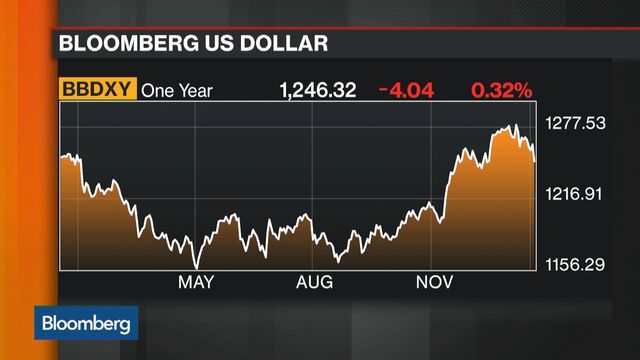 Muted trends in U.S. inflation and economic growth mean the U.S. Federal Reserve is unlikely to threaten the expansion with aggressive interest-rate increases to keep price pressures in check, said New York Fed President William Dudley.
"The risk that the Fed will snuff out the expansion anytime soon seems quite low because inflation is simply not a problem," Dudley said Tuesday in remarks prepared for a speech at a retailing industry conference in New York.
"The economy is not growing much above its sustainable long-term pace" and "pressures on labor resources have been increasing, but quite slowly," he said. "Finally, the recent strengthening of the dollar will put downward pressure on import prices and limit the ability of domestic producers to raise their prices."
Dudley's comments come as policy makers weigh how fast they should raise interest rates. While inflation remains below target, U.S. central bankers are trying to get a better sense of how new economic policies to be implemented by President-elect Donald Trump's incoming administration will impact the economy and consumer prices. Stocks and interest rates have risen since the Nov. 8 U.S. presidential election as investors mark up expectations for growth and inflation.
At the rate-setting Federal Open Market Committee's most recent meeting in mid-December, the median estimate of the 17 participants was that three quarter-point hikes in the benchmark overnight rate would be appropriate this year.
"I am optimistic that the economic expansion will continue over the next few years," Dudley said. "The household sector's financial condition is in unusually good shape for this point in the economic cycle."
The New York Fed chief pointed to data showing that U.S. households have shunned spending financed by home-equity lines of credit, which played a major role in the consumption binge that was evident in the run-up to the 2008 recession and financial crisis.
"If households and lenders again become comfortable with financing consumption with debt in addition to income, this will provide additional support to household spending and to the current economic expansion," he said.
Before it's here, it's on the Bloomberg Terminal.
LEARN MORE