Brazil to Revise Growth Figures After IMF Slashed Outlook
by and
Finance Minister Meirelles says revision coming in 2 weeks

Brazil hopes to regain investment grade before 2018: Meirelles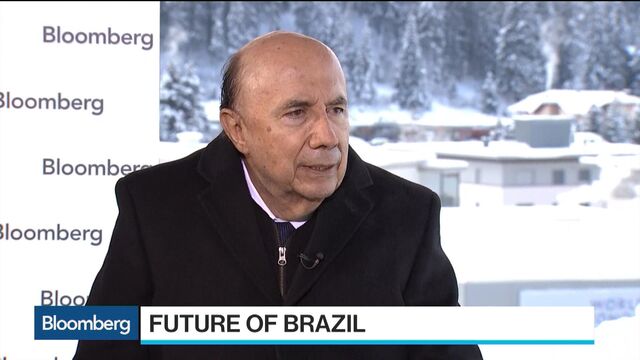 Brazil will revise its 2017 growth estimate after the International Monetary Fund more than halved its forecast to near-stagnation, Finance Minister Henrique Meirelles said in Davos.
"We're going to revise it in about two weeks," Meirelles said in an interview with Bloomberg News Editor-in-Chief John Micklethwait. Growth for 2017 will be "a low number because of the very deep recession and the statistical carry over that brings the number down."

While Brazilian stocks have rallied about 20 percent since President Michel Temer took office last May and appointed Meirelles as his finance minister, a rebound in the real economy has been more elusive as unemployment continues to rise and private consumption stagnates. Highly regarded for his eight-year tenure as the head of the central bank in the previous decade, Meirelles lent credibility to Temer's agenda of fiscal austerity and economic reforms, fueling hopes that Brazil would soon emerge from its worst recession on record.
Optimism, however, about Brazil's recovery has been fading, with economists lowering their GDP forecasts for 2017. On Monday, the IMF estimated Latin America's largest economy will grow just 0.2 percent this year -- less than the 0.5 percent forecast by economists in a weekly central bank survey.  
Asked whether Brazil will cut its forecast of 1 percent to somewhere more in line with the market and IMF expectations, Meirelles said "let's wait and see."

The government expects a key pension reform bill to pass in the Senate by late May or early June and has prepared a Plan B in case the legislation stalls in Congress, Meirelles said. Opposition to the reform is strong as it raises to 65 the minimum age of retirement for men and women, while mandating a minimum of 25 years of contribution to the system.
Plan B
"If social security is not approved for some reason, there are several other measures: number one is to cut expenses and fiscal incentives and, evidently, in the last resort to raise taxes," he said.
The government continues to focus on containing inflation expectations and is letting the central bank work independently in its task to lower the benchmark rate from the current level of 13 percent, he said.
In the minutes from the bank's last monetary policy board meeting released Tuesday, policy makers said a 75 basis point cut last week would contribute to stabilizing and restarting economic activity without deviating from the goal of bringing inflation to 4.5 percent in 2017 and 2018.
Of the few palpable economic successes under Temer, a drop in consumer prices and the benchmark rate have been among the most notable. Annual inflation has fallen to 6.29 percent from 10.71 percent in January 2016. Temer placed former Itau chief economist Ilan Goldfajn as the head of the central bank last year.
Credit Rating
The currency has also rallied in the past year, gaining 26 percent, second only to the Russian ruble in emerging markets. The real rose 1.2 percent to 3.2018 at 10 a.m. in Sao Paulo on Tuesday with a fresh round of intervention to bolster the currency announced by the central bank. The benchmark stock index rose 0.3 percent.
Read more: Brazil's Highs and Lows -- a QuickTake
Brazil, which was cut to junk in 2015 and currently has a BB rating by S&PGR, is on the path to regain investment-grade, Meirelles said.
"I'll do my job and the ratings agencies will do their job," he said. "The sooner the better. I hope it's before 2018."
President Temer's pledge not to run in Brazil's 2018 presidential elections makes it easier for the government to negotiate unpopular reforms with Congress, Meirelles said.
"We are doing the tough job and that will make life much easier for people who get elected next year," he said. He declined to say whether he will consider a run for president.
Before it's here, it's on the Bloomberg Terminal.
LEARN MORE