Bank Stocks Tumble on Trump's Comments After Post-Election Rally
by
'These stocks were due for a breather,' analyst Stemm says

Shares have climbed on bet taxes will fall as Fed rates rise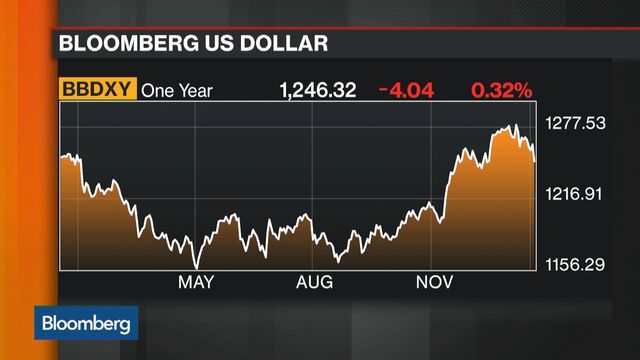 Shares of big U.S. banks fell the most since June after Donald Trump criticized a Republican corporate tax plan and rattled markets by calling the dollar "too strong," moves that prompted some investors to lock in gains since his election.
The KBW Bank Index declined 3.5 percent, the most since June 27, while bonds and gold advanced after Trump told the Wall Street Journal the dollar is too high in part because China holds down its own currency. Morgan Stanley fell 4.2 percent to $41.98 at 3 p.m., reversing gains in early trading after reporting fourth-quarter results that beat analysts' estimates. The firm had surged 28 percent since the election through Friday. JPMorgan Chase & Co. and Bank of America Corp. also slid more than 3 percent Tuesday.
Trump's "comments could be causing some folks to think that growth expectations should come in a little, bringing rates down, which in turn can bring financial stocks down," said Shannon Stemm, an analyst at Edward Jones & Co. "These stocks were due for a breather, you could be seeing some folks taking profit."
The KBW index of 24 major U.S. lenders has climbed 20 percent since the Nov. 8 election stoked expectations for corporate tax cuts, higher interest rates and lighter financial regulation. Investors will need to see the Trump administration make progress on those points to drive bank stocks higher, analysts have said.
"Every day there's a different story and talking point" from Trump, said Devin Ryan, an analyst at JMP Securities. "At this level, the market needs to see the positive momentum that's expected in results carry through, and some of that is dictated by details coming out of the new administration."
Before it's here, it's on the Bloomberg Terminal.
LEARN MORE