business
Vietnam's Premier to Raise Foreign-Investor Caps on Banks
By and
Vietnam aims for GDP growth of 7 percent through 2020

VN Index rises most in two weeks, led by shares of banks
Vietnam will increase the limits of foreign ownership in banks as early as this year to quicken the overhaul of the nation's banking system and further lure overseas investments to boost economic growth, Prime Minister Nguyen Xuan Phuc said.
"We will raise the ceiling and will also expand access to the securities market" for foreign investors, Phuc said in an interview with Bloomberg Television's Haslinda Amin at the Government Office in Hanoi on Friday. "We will try to make it this year," he added.
Vietnam caps foreign ownership in banks at 30 percent and is seeking more investment to help strengthen the financial system, which has been hobbled by a surge in non-performing loans to state-owned companies.
Phuc didn't specify the new ceiling to be introduced this year, but he indicated that the government may sell out completely from the more troubled banks. He singled out OceanBank, taken over by the State Bank of Vietnam in 2015, as a weak institution the government is willing to part with immediately.
"Right now, if there are any foreign investors interested in buying any of our under-performing banks, we will sell them entirely," he said.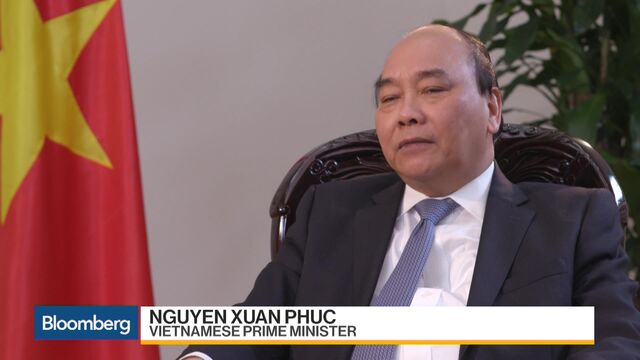 Financial services companies led gains in Vietnam stocks on Tuesday, driving the benchmark VN Index to its biggest advance in two weeks. Bank for Foreign Trade of Vietnam JSC surged 4.3 percent to 38,950 dong at the close in Ho Chi Minh City trading, the highest in almost four months. Vietnam Joint Stock Commercial Bank for Industry and Trade jumped by the 7 percent cap to 17,650 dong, while Bank for Investment and Development of Vietnam increased 6.3 percent to 16,800 dong.
'Positive Step'
Allowing greater foreign ownership of banks will attract more funds to the country and help the government deal with non-performing loans, said Trinh Nguyen, a senior economist at Natixis SA in Hong Kong. "This will be a positive step forward should it happen," she said.
The opening up of Vietnam's banks to more foreign investment is also expected to speed the country's ascent to emerging-market status and boost a stock index that's already near a nine-year high, according to Andy Ho, chief investment officer at VinaCapital Group, the nation's largest fund manager.
Increasing Liquidity
"One of the key factors to join the index is to increase liquidity, and the key to increasing liquidity is to raise foreign ownership limits," Ho said. The question now is whether raising the caps will be done by the government or the boards of the individual banks, he said.
The government set up the Vietnam Asset Management Company in 2012 to acquire bad loans from the banks, reducing the ratio to 2.5 percent of total loans in November from 17 percent. However, less than 5 percent of the transferred non-performing loans have been resolved, the World Bank said in July.
As well as considering higher foreign ownership in banks, the government is pushing ahead with moves to divest state companies outside the financial sector. It's working to sell its entire stakes in the country's two top breweries, Saigon Beer Alcohol Beverage Corp. and Hanoi Beer Alcohol Beverage Corp. Vietnam's State Capital Investment Corp. last month sold 78.4 million shares in Vietnam Dairy Products JSC, the nation's largest company that's known as Vinamilk.
Foreign Investment
Phuc, 62, a former vice premier before becoming prime minister in April last year, said he wants to make Vietnam among the top four investor-friendly economies in Southeast Asia this year. The government is developing initiatives to improve the country's investment environment, including more protection on intellectual property rights, tax breaks and better access to electricity and land, he said.
"Vietnam enjoys a so-called golden population -- we have a very young workforce and we need to train them and make sure they are ready," he said. "We will increase our investment in infrastructure."
Foreign investment, led by companies such as Samsung Electronics Co. Ltd., make up about 70 percent of Vietnam's export industry and has transformed the economy into a manufacturing hub in Southeast Asia. Disbursed FDI climbed to a record $15.8 billion last year, helping to underpin economic growth of more than 6 percent.

Phuc forecast "even higher growth" beyond this year, with an average of 7 percent economic expansion through 2020.
"That requires us to improve the restructuring of the economy in all sectors," he said. "We also need to reduce corruption and graft and develop a strong force of officials who are able to better integrate the Vietnamese economy into the world and implement the commitments that Vietnam has made" in its trade agreements, Phuc added.
"After 30 years of reform Vietnam has achieved a lot of accomplishments," Phuc said. "However, the economy still faces many challenges. Economic restructuring is still making very slow progress and that leads to low productivity and low income."
— With assistance by Nguyen Kieu Giang
(
Updates with closing prices in sixth paragraph.
)
Before it's here, it's on the Bloomberg Terminal.
LEARN MORE