U.K. Still Bears Brunt of Hard-Brexit Risks, France's Noyer Says
By and
Transition must be well organized, former central banker says

Clearing business must return to Europe for stability reasons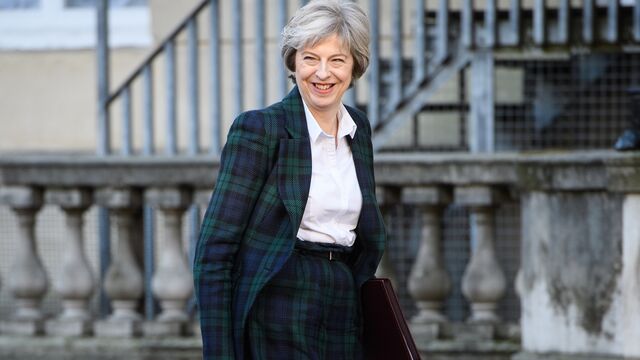 Britain stands to suffer most from an abrupt break with the European Union, former Bank of France Governor Christian Noyer said.
"All in all, it is mostly a risk for the U.K.; I hope for them they will cope with it," Noyer told a conference in Hong Kong. "There will be more investment in the rest of the EU."

Noyer's comments rebut claims by Bank of England Governor Mark Carney last week that the EU faces a greater financial-stability danger should the country leave the bloc without an appropriate transition phase. The discussion follows calls from financial-sector executives for more time than the two-year leaving period allotted by law.
Asked in a Bloomberg Television interview whether a so-called hard Brexit spells more of a chance of a disorderly departure from the bloc, and whether he agrees with Carney's assessment, Noyer said: "I don't believe at all that there is a risk but what is sure is that the transition must be well organized." 
While negotiations in the financial sector should progress relatively speedily, talks related to other parts of the economy may take more time, he said.
"If the financial firms need a year or two to reorganize themselves, one should be careful to grant them the necessary time -- I don't think you need a lot of time," Noyer said. "The most delicate thing is probably in the manufacturing sector," and "it may take more time to disentangle that in an organized way, so we should take the time to do that."
Clearing Houses
Clearing of financial transactions should return to the EU, Noyer said.
"If the bulk of the clearing is not done in the euro zone under the supervision of the central bank of the euro zone, of the supervisors of the euro zone, including the European market supervisor, that's very dangerous," he said. "It shouldn't be seen as aggressive vis-a-vis the U.K. It's a matter of financial stability. It's highly dangerous to have a financial center that is outside the remits of those in charge of financial stability."
European Central Bank President Mario Draghi said last week that his institution should maintain oversight of the U.K.'s clearing business even after Brexit. The ECB has tried in the past to claw euro-derivatives clearing away from Britain, where some $2.7 trillion of interest-rate swaps change hands each day.
Before it's here, it's on the Bloomberg Terminal.
LEARN MORE