Pro-EU U.K. Lawmakers Warn May Not to Rush Trade Deal With Trump
by
Trump told Times newspaper he'll work 'quickly' to broker pact

U.K. must protect health service, environment, lawmakers say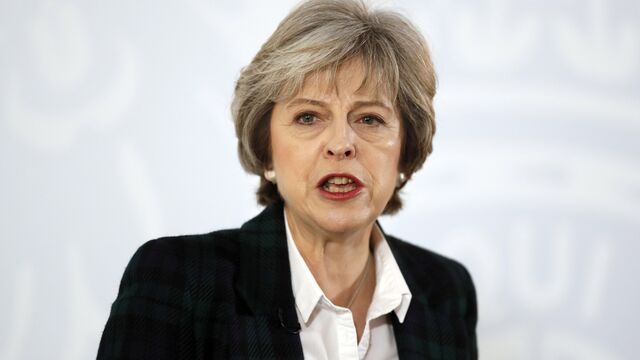 U.K. Prime Minister Theresa May should take care to protect the environment and the National Health Service when negotiating a new trade deal with the U.S., the opposition Labour Party and pro-EU campaigners warned.
The U.S. stands ready to negotiate an accord once Britain completes its withdrawal from the European Union, President-elect Donald Trump told the Times of London newspaper in an interview published Monday. "We're gonna work very hard to get it done quickly and done properly," he said.
Trump's pledge is a boost to May, who intends to trigger two years of Brexit talks by the end of March and has sought to portray Britain as a free-trading nation open to the world, even as it cuts some ties with its closest allies. She's due to spell out more details of her negotiating strategy in a speech Tuesday.
While May's office welcomed Trump's words, Labour and Open Britain, an alliance of politicians, business people and unions that seeks to moderate Brexit, warned on Monday against rushing to an agreement. Labour's spokesman on trade, Barry Gardiner, welcomed the prospect of a deal, saying the benefits must be extended to small and medium-sized companies.
Key Sectors
But there's a danger "that the government ends up sacrificing key sectors of British industry in order to get a deal done quickly," he said in an e-mailed statement. "We want a deal that protects the NHS from big American health-care companies; a deal that preserves our high food-safety standards; a deal that safeguards our environmental and social standards, as well as offering protection for workers."
Open Britain, which has its roots in the "Remain" campaign during last year's Brexit referendum, put out a statement, with warnings from Labour, Liberal Democrat and Green Party politicians, as well as Friends of the Earth and the Unison labor union.
"The government's lack of a Brexit plan must not result in rushed trade deals which jeopardize our environmental standards and push us further away from solutions to tackling climate change," said Lynne Featherstone, a former Liberal Democrat minister who's now a member of the House of Lords. "From carbon emissions to food safety, the EU has played a positive role in protecting our environment and these standards must be maintained or strengthened in future deals. There must be no caving in to Trump's misplaced climate-skepticism."
Before it's here, it's on the Bloomberg Terminal.
LEARN MORE