Le Pen Aide Applauds Trump Support for Brexit and Merkel Bashing
By
Marine Le Pen's lieutenant says Trump shows 'common sense'

U.S. president-elect offers Britain quick trade deal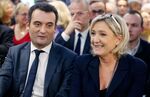 France's anti-Europe and anti-immigration presidential candidate Marine Le Pen says Donald Trump is offering "smart protectionism" while one of her top lieutenants praised the U.S. president-elect for supporting Britain's plan to leave the European Union.
"Trump cheers Brexit and blames Merkel's migration policies: feels good to have some common sense in official comments!" Florian Philippot, Le Pen's closest aide, said on Twitter Monday. Meanwhile, speaking on RTL radio, the National Front leader herself praised Trump's "economic patriotism and smart protectionism."
Trump said he would offer the U.K. a quick and "fair" trade deal when he meets Prime Minister Theresa May shortly after taking office. "You look at the European Union and it's Germany. Basically a vehicle for Germany. That's why I thought the U.K. was so smart in getting out," he said in an interview with The Time published Sunday.
The National Front's reaction underlines how the incoming U.S. president is bolstering populists across Europe in up-ending decades of Trans-Atlantic policy. Trump takes office Friday.
Le Pen is promising to negotiate a better deal for France with the EU and to hold a referendum on the matter within six months of taking office if she wins this year's presidential election. She has also promised to take France out of the euro and restore the franc, the nation's historic currency.
The National Front leader is running in France's 2017 presidential race against Republican nominee Francois Fillon and independent contender Emmanuel Macron. One poll has shown her winning the first of the two-rounds of voting with Fillon emerging as the victor in the second. The election is scheduled for April 23 and May 7.
Before it's here, it's on the Bloomberg Terminal.
LEARN MORE