In a Corner of the Former Soviet Union, a Tower Is De-Trumped
by and
Workers seen removing letters after licensing deal pulled

Tower in Azerbaijan capital completed, though yet to open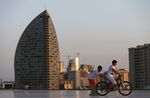 As President-elect Donald Trump prepared to etch his name into American history at this week's inauguration, in a corner of the former Soviet Union it was being rubbed out.
In the Azerbaijan capital of Baku, workers were seen removing Trump's name from a hotel tower after the Trump Organization last month ended a licensing agreement with the developers. By Monday morning, several letters on the 33-story building were gone and on another side of the sail-shaped tower, the letters were covered by tarps. 
Trump last month announced he was withdrawing from licensing contracts to affix his name to buildings in Azerbaijan, Georgia, Brazil and Argentina. The deals had attracted unwanted attention because of their delays and potential conflicts of interest. Trump this month announced plans to hand over the management of his business to his two sons and vowed to do no foreign deals while in office, but said he wouldn't be selling any of his assets.
The Baku skyscraper was built in 2015, though has remained shut. An official close to Trump's business partner in Azerbaijan said last month that it would open soon. Trump continued to receive money from the Azeri branding deal -- almost $3 million since 2014, according to his financial disclosures -- though the project disappeared from his website last year.
Garant Holding, which built the tower, didn't respond to phone calls seeking comment. The company is run by Anar Mammadov, son of Azeri Transport Minister Ziya Mammadov.
Before it's here, it's on the Bloomberg Terminal.
LEARN MORE