IMF Upgrades China 2017 Growth Forecast to 6.5%, Warns on Debt
by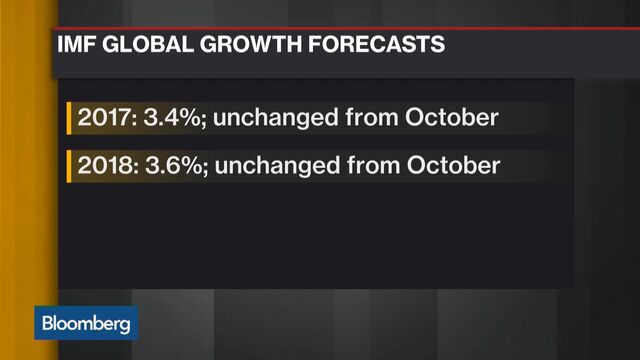 The International Monetary Fund upgraded its growth forecast for China's economy in 2017 to 6.5 percent, 0.3 percentage points higher than their October forecast, on the back of expectations for continued government stimulus.
The world's second largest economy ended 2016 on a firm note after a rocky start to the year. Consumption is holding up, factories have pulled out of a four-year streak of deflation and overall growth is expected to comfortably meet the government's target. Analysts expect another year of solid growth ahead of a twice-a-decade reshuffle of the Communist Party's top leadership scheduled for later this year.
Much of China's rebound has been attributed to a deluge of cheap credit unleashed by state-run banks at the government's behest. "The growth rate in China was a bit stronger than expected, supported by continued policy stimulus," the IMF wrote in its latest outlook.
But the Washington-based fund repeated a warning that China's credit-fueled recovery could only be storing up deeper problems.
"Continued reliance on policy stimulus measures, with rapid expansion of credit and slow progress in addressing corporate debt, especially in hardening the budget constraints of state-owned enterprises, raises the risk of a sharper slowdown or a disruptive adjustment," the IMF warned.
China's total debt grew 465 percent over the past decade, according to Bloomberg Intelligence. Total debt rose to 247 percent of gross domestic product in 2015, from 160 percent in 2005, with corporate debt jumping to 165 percent of GDP from 105 percent.
A significant up-tick in capital outflows in recent months as the yuan weakened against the dollar adds to the worry list given the rapid debt build up. "These risks can be exacerbated by capital outflow pressures, especially in a more unsettled external environment," the IMF paper said.
The fund forecast that China will grow 6 percent in 2018, unchanged from the October report.
Before it's here, it's on the Bloomberg Terminal.
LEARN MORE