IMF Assumes a Modest U.S. Boost From Trump Stimulus for Now
by
Fund keeps global forecast for 2017 at 3.4 percent in report

Advanced economies picking up while emerging markets lag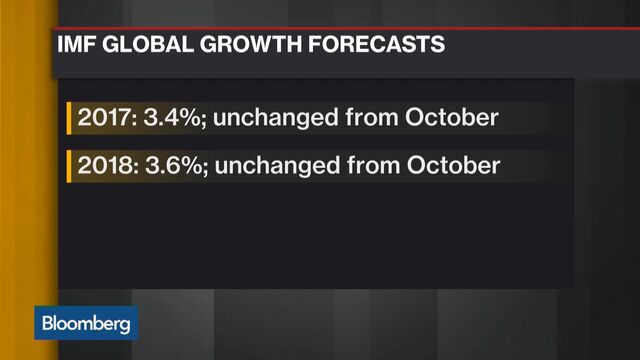 The International Monetary Fund is taking a cautious stance toward the policies of U.S. President-elect Donald Trump, who takes office this week, assuming a modest boost to the U.S. economy from his promise of fiscal stimulus.
The IMF maintained its forecast for global growth in 2017 of 3.4 percent, the Washington-based organization said Monday in a quarterly update to its World Economic Outlook. Expansion for 2018 is forecast at 3.6 percent, also unchanged from the fund's previous forecast in October.
The impact of a Trump administration is one of the biggest unknowns facing the global economy. While Trump has promised to cut taxes and boost infrastructure spending, he's also threatened to impose tariffs on trade partners such as China and Mexico. Such punitive measures may sap growth if they provoke retaliation. Trump's plan for policy implementation will become clearer after his Jan. 20 inauguration in Washington.
The high degree of uncertainty about what's in store for U.S. economic policy presents a "wider than usual range of upside and down risk factors," IMF Chief Economist Maurice Obstfeld said at a press conference on Monday. 
Policy Uncertainties
While Trump has set out a general direction for economic policy -- promising fiscal stimulus and lower taxes -- his plans lack specifics, said Obstfeld. "The more expansionary policy mix in the U.S., if it materializes" could have positive spillovers by stoking demand in emerging markets, he said. On the negative side, a stronger dollar could take a toll on manufacturing and drive up borrowing costs for emerging nations that hold dollar debts.
The IMF bumped up its forecast for U.S. growth by 0.1 percentage point this year and 0.4 point for 2018. The U.S. economy will expand by 2.3 percent in 2017 before firming to a 2.5 percent rate in 2018, according to the update.
Trump has pledged to boost U.S. growth to an annual average of 3.5 percent -- with the potential for 4 percent -- and create 25 million jobs over the next decade.
The Federal Reserve is now expected to raise rates at a less gradual pace than IMF staff projected in October, the fund said, without specifying the number of rate hikes it anticipates this year.
Economic Scenarios
The IMF said its U.S. forecast is only the most likely outcome among a wide range of scenarios for the world's largest economy, and that more detailed assumptions should be possible by the next update to its outlook in April. The latest forecast also takes into account higher oil prices after an agreement in November by OPEC to limit supply.
The IMF said its unchanged forecast for the world economy masks a divergence in the fortunes of advanced economies, which are seeing stronger growth due partly to a reduced drag from inventories, and those of emerging markets, where growth has been unexpectedly weak.
In the U.K., domestic demand has stayed afloat better than expected in the aftermath of the June referendum to leave the European Union, the fund said. It lifted its forecast for the British economy this year, reversing a previous cut, to 1.5 percent from 1.1 percent.
The fund projects the euro area will expand 1.6 percent this year, up 0.1 percentage point from its October forecast. The IMF raised its forecast for Japan by 0.2 percentage point to 0.8 percent in 2017.
It also increased its projection for China by 0.3 percentage point, now predicting that the world's number two economy will grow 6.5 percent this year.
Mexico Cut
Citing "U.S.-related uncertainty," the IMF slashed its projection for Mexico's growth to 1.7 percent this year, down 0.6 percentage point from the October forecast.
Trump has promised to end or renegotiate the North American Free Trade Agreement between the U.S., Canada and Mexico that's been key to Mexico becoming a manufacturing powerhouse over the past two decades.
Also lowered was the forecast for India's growth, by 0.4 percentage point to 7.2 percent in 2017, as consumption lags from the effect of the government's decision to withdraw certain cash denominations. The IMF cut its Brazil forecast by 0.3 point to 0.2 percent growth in 2017.
The IMF said the global economy could accelerate more quickly if stimulus turns out to be stronger in the U.S. or China. However, growth could be weaker than expected if countries shift toward protectionism, credit conditions contract, geopolitical tensions flare, or China slows down more than anticipated.
Before it's here, it's on the Bloomberg Terminal.
LEARN MORE