British Firms Are Staying Positive Ahead of Brexit Negotiations
By
U.K. firms plan to hire more than their global peers, PwC says

Prime Minister Theresa May to set out exit plans on Tuesday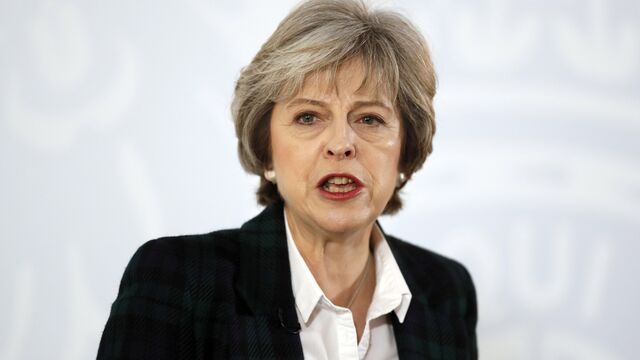 U.K. firms are planning to hire more than their global counterparts and Britain's popularity among overseas investors is rising, according to PricewaterhouseCoopers LLP.
A PwC survey of over 1,300 executives shows that 95 percent of British companies are optimistic about their own prospects over the next three years. They're not as cheery about the global economy though: only 17 percent expect world growth to improve in 2017, down from 30 percent last year. Economic uncertainty, exchange-rate volatility and the future of the euro area were all cited by U.K. executives as risks to company growth.
The findings are being published at the World Economic Forum in the Alpine resort town of Davos, an annual gathering of billionaires and political elites. Aerospace giant BAE Systems Plc and Aberdeen Asset Management are among the British firms attending, alongside U.K.  Prime Minister Theresa May and executives from around the world including Frans van Houten of Royal Philips NV and Meg Whitman, CEO and President of Hewlett Packard Enterprise Co.
The report shows British executives are so far largely unperturbed by the country's June vote to leave the European Union. Warnings of an economic slowdown from the IMF, the OECD and the Bank of England have so far not fully materialized. However, inflation is set to pick up this year, and much of the economic impact will depend on what sort of deal Theresa May secures with European leaders.
The prime minister will set out her vision for the U.K.'s new relationship with the bloc in a speech on Tuesday and is likely to signal that she's willing to quit the single market for goods and services in order to regain control of Britain's borders and laws, according to reports over the weekend.
Access to skills is considered the biggest threat for British business, a concern that's risen since last year, according to the report. Even so, 63 percent of the U.K. bosses surveyed expect to grow their workforce over the coming year, compared to 52 percent of other countries.
"We may face a period of uncertainty, but the economic fundamentals remain positive," said Kevin Ellis, chairman and senior partner at PwC. "U.K. CEOs are resilient and realistic about the challenges ahead -- maintaining a positive mindset and staying focused on what they can control is vital."
Before it's here, it's on the Bloomberg Terminal.
LEARN MORE