Brexit Casts Pale Shadow on U.K. Stocks Climbing Peak to Peak
By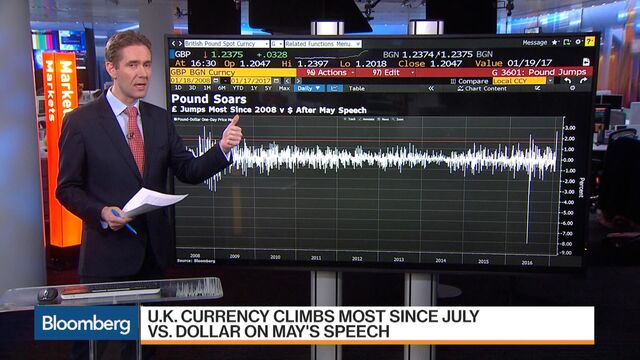 The stars are aligned for the U.K. stock market to keep shining this year, as reports of a so-called hard Brexit fuel a further slump in the pound.
The positive effect of the currency move on overseas earnings, along with attractive dividend yields, will draw investors to U.K. stocks throughout 2017, according to $1.7-trillion money manager JPMorgan Asset Management. The benchmark FTSE 100 Index is also likely to get a boost from commodity producers, whose profit is forecast to double this year.
As speculation intensifies that Britain may opt out of the European Union's single market, the country's currency is bearing the brunt of investor worry in a way that continues to support broad stock market gains. The FTSE 100 Index of megacaps completed a record streak of 14 straight gains and 12 all-time highs, while gauges of mid-caps and small firms also climbed to fresh peaks. The inverse link between sterling and stocks is likely to continue, investors and analysts say.
"If the Brexit negotiations are perceived as 'hard,' sterling goes down, and therefore our earnings get a boost -- it's almost like natural pressure relief given the overseas nature of our stock market," said James Illsley, a fund manager at JPMorgan Asset in London, who has allocated about 80 percent of his U.K. equity fund to FTSE 100 companies. "Brexit is a concern, but it's a minority concern for the U.K. stock market."

The FTSE 100 inched higher on Monday as the pound slid below $1.20 for the first time since October's flash crash, after a report British Prime Minister Theresa May will prepare to withdraw from the EU's single market in return for freedom to curb immigration and strike deals with other countries. May will set out details of her approach to Brexit in a speech on Tuesday, while a court ruling is due this month on whether the British leader or Parliament carries the power to invoke the exit.
While currency moves driven by Brexit uncertainty have underpinned stock gains, better-than-forecast data have also held at bay worries about the health of the economy. Manufacturing in December accelerated the most in 2 1/2 years, retailers posted better-than-estimated Christmas holiday sales and consumers in November borrowed at the fastest pace in more than a decade.
That's lifted even the FTSE Local U.K. Index --a measure of companies that rely on the domestic market for most of their sales -- to within 0.8 percent of its pre-Brexit level.
"We are dealing with an essentially overseas equity market, but we also have a resilient economy thus far, so the positive catalysts have percolated down to the smaller firms," said Ken Odeluga, a market analyst at brokerage firm City Index in London. "There is a good chance that this momentum can carry stocks higher still, particularly as May will be back for another bite of the pound."
Those with exposure to overseas revenue have benefited more.
The FTSE 100, whose members get about three-quarters of their revenue overseas, has surged 16 percent since the day of the Brexit vote.
The FTSE 250 Index has climbed 5.8 percent in the same period. Its firms generates about half of their sales from outside the U.K., according to estimates by JPMorgan Chase & Co. and UBS Group AG.
The FTSE Smallcap Index, which JPMorgan Asset Management estimates also gets about half of its sales from overseas, has jumped 15 percent.
Foreign investors, however, are missing the rally -- in dollar terms, all three gauges remain below their pre-Brexit levels.
Before it's here, it's on the Bloomberg Terminal.
LEARN MORE