Trump Trade Attacks to Face Reality of Shrinking Chinese Surplus
Bloomberg News
World's biggest exporter saw 2016 trade balance decrease 14%

Trump accusations 'more relevant 10 years ago,' economist says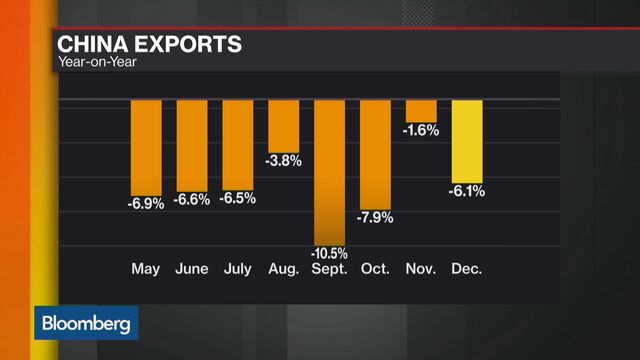 A week from Donald Trump assuming the U.S. presidency, data from the country he's called a trade cheat and threatened to label a currency manipulator show China's trade surplus with both the world and the U.S. actually shrank last year.
China's overall trade surplus -- which represents demand borrowed from other nations in a zero-sum interpretation of international economics -- shrank 14 percent in 2016 to $512.9 billion, down from a record in 2015 and the first drop in five years, customs data showed Friday. Against the U.S., the surplus dropped to $254 billion from $260 billion even as the yuan fell 6.5 percent against the dollar, the most in more than two decades.
Challenges for the world's largest exporter are mounting as protectionism reshapes global politics and economics, with Trump's impending inauguration fueling the uncertainty. Somewhat overlooked amid the angst: China's epochal shift toward consumption and services and away from dependence on smokestack industries and cheap exports makes it less reliant on external demand and is helping shrink the global imbalances of the past.
"A lot of the accusations Trump has made were more relevant 10 years ago," said Julian Evans-Pritchard, an economist at Capital Economics in Singapore. "China now has an over-valued currency. That's sort of hurting its own exports but helping it to unwind some of the previous imbalances, and it means that China is contributing more to global demand. "
Indeed, while Trump accuses China of manipulating its currency to keep it weak and therefore boost exports, the nation's central bank has actually been spending billions of dollars to prop up the yuan. Policy makers in Beijing have also tightened capital controls to prevent an acceleration of the fund exodus since August 2015.
Read more: PBOC Said to Boost Yuan Curbs as Banks Told to Balance Flows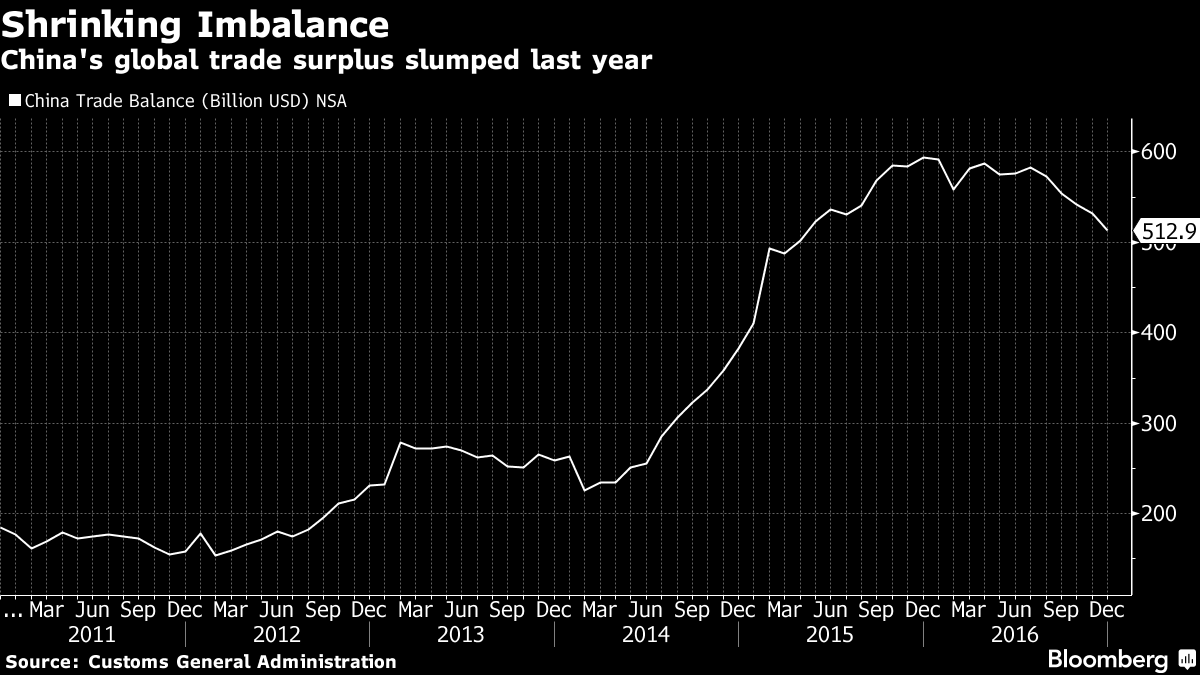 "China's exports are losing competitiveness," said Zhu Haibin, chief China economist at JPMorgan Chase & Co. in Hong Kong. The shrinking surplus is a result of rising oil prices and higher manufacturing costs, and the 2017 surplus will be little changed from 2016, he said.
Friday's data show shipments fell for a ninth straight month in December, dropping 6.1 percent from a year earlier. Imports rose 3.1 percent to leave a $40.8 billion trade surplus for the month.
China will closely monitor U.S. trade policy after Trump takes office, customs spokesman Huang Songping said at a briefing in Beijing, citing global trends toward populist policies.
"The political landscape is changing significantly," Huang said. "Brexit, elections in major European countries, the new president in the U.S. and the election in South Korea will all bring uncertainties to the current policies, and may add to the global protectionism trend."
Trade still faces large uncertainties this year amid a complicated global context and downward pressure on the economy is "still big," Huang said. Higher costs reduce trade advantages and market share is being lost to Southeast Asian nations, he said.
For a story on how Chinese exporters are squeezed by tepid demand and rising prices, click here
China is ready to retaliate if Trump takes punitive measures, people familiar with the matter told Bloomberg this month. Options include subjecting U.S. firms to tax or antitrust probes, anti-dumping investigations and scaled back buying American products, the people said.
If Trump does get tough, he likely faces pushback from the most powerful U.S. corporations. These companies have more than $228 billion in China investments at stake in the event of a trade conflict, and they have a track record of resistance against Washington if tensions rise.
Read More: Trump Confronting China on Trade Risks Corporate Backlash
Trump has suggested slapping a 45 percent tariff on goods from China and selected longtime critics of the country's practices to top White House posts. Beijing's state media has warned the U.S. will be met with "big sticks" if it tries to ignite a trade war or further strain ties.
Such an extreme tariff would take China's 2017 economic growth down to 5.6 percent, Tom Orlik, chief Asia economist at Bloomberg Intelligence in Beijing, said in a report Friday. He forecasts an expansion of 6.3 percent this year.
"Given the blow-back costs to the U.S. from an outright trade war, a 45 percent tariff would be a surprise," Orlik said. "Even so, the chance of smaller but still significant moves taking a chunk out of China's exports appears elevated."
— With assistance by Xiaoqing Pi, Yinan Zhao, and Miao Han
Before it's here, it's on the Bloomberg Terminal.
LEARN MORE