Trump Aide Called Russian Ambassador on Same Day as Sanctions
By
Contact came amid U.S. controversy over Russian hacking

Flynn also exchanged Christmas text messages, Spicer says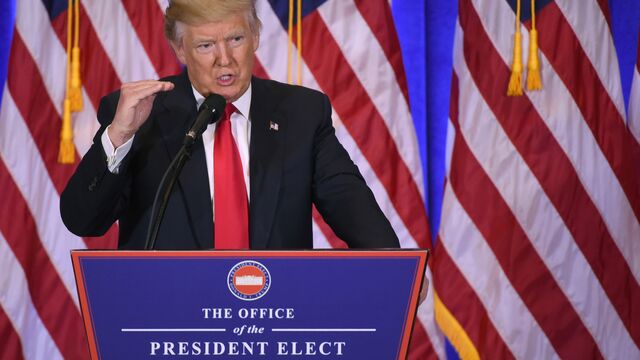 President-elect Donald Trump's national security adviser had a phone conversation with the Russian ambassador to the U.S. on the same day the Obama administration imposed sanctions on top Russian intelligence officials, but a transition spokesman said the discussion was innocuous and involved routine planning.
Trump adviser Michael Flynn and Ambassador Sergey Kislyak spoke Dec. 29 to discuss scheduling a conversation between Trump and Russian President Vladimir Putin after the president-elect is sworn in, transition spokesman Sean Spicer told reporters Friday. Spicer had initially said the two spoke Dec. 28, the day before the sanctions. Late Friday, Spicer said he was mistaken about the date. He said the call followed an exchange of texts originated by Flynn to wish the ambassador merry Christmas.
"They exchanged logistical information on how to initiate and schedule that call," Spicer said. "That was it, plain and simple."
President Barack Obama hit Russian intelligence officials and agencies with sanctions for cyber attacks aimed at interfering with the 2016 presidential campaign and expelled 35 Russian operatives from the U.S. On Dec. 30, Putin said his government wouldn't retaliate because he was waiting for Trump to take office. Trump responded with a tweet in which he called Putin "very smart."
Asked if the Obama administration was concerned about Flynn's contact with Kislyak, White House press secretary Josh Earnest said it "depends on what he said."
"Obviously I have zero insight into what was said on the call," he said.
The Associated Press and Washington Post, citing unnamed U.S. officials, reported earlier Friday that Flynn and Kislyak had frequent contact, including the day the U.S. sanctions were put in place.
Logistics
Communications between an incoming administration and foreign governments are not unusual as staff set up contacts and deal with logistics. Trump has taken congratulatory calls from numerous foreign leaders since being elected.
At a news conference on Wednesday, Trump acknowledged for the first time that Russia was responsible for hacking e-mail accounts of the Democratic National Committee and Hillary Clinton's campaign chairman. He has nonetheless stressed that he hopes to have a better relationship with Moscow and that he thinks there has been too much attention paid to the issue.
Trump has previously questioned the U.S. intelligence community's determination of Russian culpability for the hacks, and he sidestepped questions on Wednesday about whether he would roll back the financial penalties imposed by the Obama administration.
Trump also defended his approach to the Russian leader in the news conference, saying it would benefit U.S. interests.
"If Putin likes Donald Trump, guess what, folks? That's called an asset, not a liability," Trump said, adding he believed Russia could help in the fight against Islamic State.
Before it's here, it's on the Bloomberg Terminal.
LEARN MORE