PBOC Said to Boost Yuan Curbs as Banks Told to Balance Flows
Bloomberg News
Lenders to stop transactions unless inflows match outflows

Curbs to affect companies and individuals, people say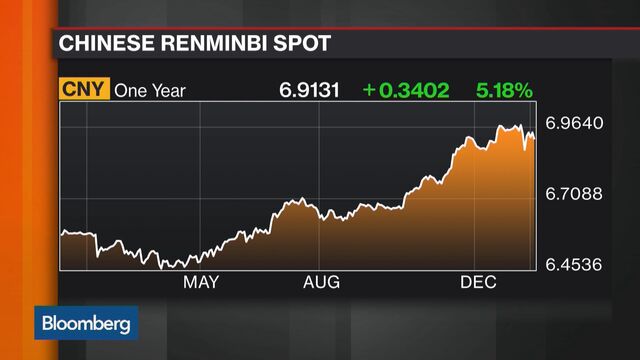 China has asked some banks to stop processing cross-border yuan payments until they balance inflows and outflows, people familiar with the matter said, as authorities step up a campaign to curb a record amount of money leaving the nation in the local currency.
The directions, given verbally on Wednesday, require the lenders to show at the end of every month that the amount of outgoing yuan matches the sum that comes in, said the people, asking not to be identified because they aren't authorized to speak publicly on the matter. The People's Bank of China guidance will apply to transactions involving both companies and individuals, the people said. The offshore yuan rallied against the dollar Friday.
For now, the banks facing difficulty in balancing cross-border yuan payments will have to temporarily halt outbound services to take stock of their current positions, the people said. The PBOC declined to comment after a faxed request.
"These measures will impose direct and bounded restrictions on cross-border flows, instead of just raising administrative costs and processing time related to capital outflow items," said Ken Cheung, Hong Kong-based Asia currency strategist at Mizuho Bank Ltd. "Also, they target banks, and policy makers have the platform to monitor the flows, so it's more effective than monitoring numerous corporates or residents."
The equivalent of a net $309 billion left China via yuan payments in the 11 months through November, set for the biggest annual outflow in data going back to 2010. To put this figure in perspective, a Bloomberg Intelligence gauge of Chinese outflows that doesn't include outgoing yuan estimates that a total $762 billion exited the nation in that period. Yuan payments refer to money being sent across the border in the Chinese currency, rather than being converted into dollars or other foreign tenders first.

Chinese policy makers have intensified efforts to stem capital outflows as the yuan plunged 6.5 percent against the dollar last year, the most in more than 20 years. These include placing higher scrutiny on citizens' conversion quotas and stricter requirements for banks reporting cross-border transactions. The restrictions contributed to a shortage of the Chinese currency abroad, pushing interbank rates in Hong Kong to unprecedented levels.
China's currency regulator said Friday that recent media coverage of foreign-exchange curbs was untrue, without being more specific. The State Administration of Foreign Exchange also said commercial banks should safeguard the stability of the currency market, and that the regulator will crack down on any violations.
Reuters this week reported that SAFE told banks to keep secret instructions to curb capital outflows, citing bankers it didn't identify.
Goldman Warning
Goldman Sachs Group Inc. has warned that a rising amount of capital is exiting the country in the Chinese currency rather than in dollars. In another sign of outflow pressures, China's foreign-exchange reserves fell for a sixth straight month in December, dropping $41.1 billion to a five-year low of $3.01 trillion.
The offshore yuan climbed as much as 0.5 percent to 6.8279 per dollar in Hong Kong on Friday, and dropped 0.2 percent in Shanghai.
The yuan has come under increased pressure in the past two months amid the accelerating capital outflows, faster U.S. interest-rate increases and concern that U.S. President-elect Donald Trump may make good on his threats to brand China a currency manipulator and slap punitive taxes on the Asian nation's exports.
Still, there are signs that policy makers aren't willing to tolerate unrestrained declines in the yuan. The currency traded offshore posted its biggest weekly rally in data going back to 2010 after Bloomberg News reported that policy makers were encouraging state-owned enterprises to sell foreign currency and that they were preparing contingency plans for scenarios for the yuan and for outflows.
The reported measures to limit cross-border yuan payments "underscore the difficulty of the task facing China's policy makers, working to steady the yuan and plug holes in an increasingly porous capital account," said Tom Orlik, Beijing-based chief Asia economist at Bloomberg Intelligence.
— With assistance by Tian Chen, Heng Xie, Jun Luo, and Helen Sun
Before it's here, it's on the Bloomberg Terminal.
LEARN MORE