Ontario Is Becoming Last Bastion of Canada's Hot Housing Market
by and
Toronto real estate prices rose 20% in 2016, Hamilton up 17%

Prices in Vancouver suffer biggest 3-month drop since 2012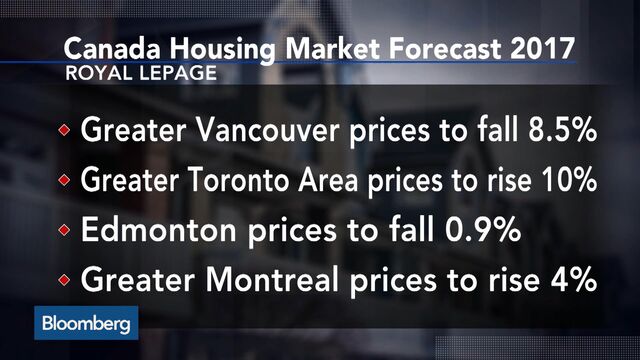 Toronto and some of its neighboring towns seem to be the last refuge of Canada's real estate boom.
Based on the latest bits of 2016 housing data this week, Canada's housing market ended the year on two separate tracks -- hot in Ontario but cool or cooling in most other cities including Vancouver, the country's most expensive market.
Here are some of the trends:
Data from Teranet show Toronto was recording monthly 1.9 percent gains in home prices in the final half of 2016 and ended the year with prices up 20 percent. Hamilton, west of Toronto, was a close second in Canada, with monthly gains of 1.5 percent in the second half, and a year-over-year increase of 17 percent. The only other market to show any second-half strength was Victoria, across the Georgia Strait from Vancouver. Prices in the rest of the country were either flat or negative.


The booming housing market is now confined mostly to Ontario. Only three of the 13 major markets outside Ontario posted annual gains of more than 2 percent in new low-rise construction, Statistics Canada data show.
British Columbia's measures to cool the Vancouver housing market are clearly working, at least for now. Prices for new builds in the Pacific Coast city declined 0.3 percent in November, the first drop since January 2015, as developers offered incentives to entice buyers, Statistics Canada said in a report released Thursday in Ottawa. Meanwhile, prices are down 2.7 percent since September, the biggest three-month drop since 2012, according to Teranet.


While the annual numbers aren't due until Monday, the latest data from the Canadian Real Estate Association show Toronto and Victoria are the only cities that posted gains of more than 1 percent in the three months through November.
In terms of new construction, 2016 was still a two-city story -- Toronto and Vancouver -- with new building starts at historical highs for both. Combined, the pair accounted for 37 percent of new starts, the most ever.
Before it's here, it's on the Bloomberg Terminal.
LEARN MORE