May, English Seek Fast U.K.-New Zealand Trade Deal After Brexit
By and
U.K. prime minister will set out divorce objectives next week

Chance to show 'high quality deal' New Zealand Premier Says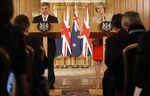 Prime Minister Theresa May and her New Zealand counterpart, Bill English, said they'll seek a free-trade deal as soon as possible after Brexit as Britain aims to prove it's still open for business after withdrawing from the European Union.
British Trade Secretary Liam Fox will travel to New Zealand in the "coming months" to start an "important" trade dialog and, in the longer term, the two countries want to agree on a "bold new U.K.-New Zealand free trade agreement," May told reporters after talks with English in London on Friday.
"I hope it will be possible for us to conclude an agreement with New Zealand in a reasonable space of time," May said. "New Zealand is an important country for us precisely because of the historic ties that we share, the shared values that we have, the shared belief in free trade that we have."
Britain is eyeing trade deals as May gets ready to trigger two years of Brexit talks by the end of March. Britain can't negotiate new accords until it has completed its divorce from the EU, but it has already held preliminary discussions with countries including Australia and India, as well as with officials from the incoming U.S. administration of President-elect Donald Trump.
May said she will use her speech on the EU on Tuesday to set out her objectives for negotiations with the bloc and for Britain's international relationships after Brexit. New Zealand is sharing its experience and expertise in trade negotiations with the U.K. as part of the preparations, she said.
'Right Deal'
"We will work to get the right deal for Britain and embark on a new constructive partnership with the European Union that makes sense for us all," May told reporters. "While the U.K. remains in the EU, we will work together to support an EU-New Zealand trade deal and we will also look to the future and how we can expand our trade and investment partnership."
Britain is New Zealand's fifth-largest trading partner and second-biggest foreign investor. Trade between the two countries totaled more than 3 billion pounds ($3.7 billion) last year, May said.
"We would hope that we can negotiate as soon as possible after the exit is completed," English said. "If the U.K. wants to demonstrate that it can negotiate a high-quality trade agreement, then New Zealand is the ideal partner for that."
The EU currently lines up trade accords on behalf of members of its customs union, all of which agree to impose the same tariff regime.