Litvak's Simple Lies Thrived in Complex Market, Jury Is Told
By
Former Jefferies mortgage-bond trader retrial goes to jury

Defense says U.S. 'not even close' to proving wrongdoing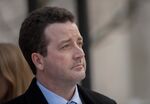 Former Jefferies LLC managing director Jesse Litvak lied to customers who sought to buy mortgage bonds at the best possible price, defrauding pension funds, retirement accounts and even the U.S. Treasury to enrich himself, a jury was told as a verdict neared.
Litvak's greed was on display in an electronic chat in which a JPMorgan Chase & Co. employee tried to cheer him up after a rough day by reminding him of his financial success, and Litvak's response was, "But I want more money," Assistant U.S. Attorney Jonathan Francis said Friday in his closing statement.
"Jesse Litvak worked in a sophisticated market, but what he did was simple -- he lied so he could make more money," Francis said in federal court in New Haven, Connecticut. "He wasn't happy with the amount of profit he was making, so he lied to increase those profits. That's not a negotiating tactic; it's a crime and it's called securities fraud."
Defense attorney Dane Butswinkas told jurors that the government "was not even close" to proving beyond a reasonable doubt that Litvak's lies had significantly altered the total mix of information customers used to decide on bond transactions. 
On the contrary, he said, the government's own witnesses couldn't recall under questioning how much weight they gave to Litvak's quoted prices when they made their decisions. Many testified they would have made the purchases at the same price even "if you took the lie out of the equation," he said.
The jury began deliberating Friday afternoon.
Price Revelations
Litvak, who was allegedly caught lying when a customer obtained a spreadsheet that revealed misleading bond pricing, was found guilty of fraud in 2014 before an appeals court tossed out his conviction because expert witnesses hadn't been allowed to testify for the defense.
During the retrial, Litvak again argued that he dealt with professionals who conduct their own research and know the value of the bonds they buy and sell, while prosecutors accused him of making up buyers and prices to get his customers to overpay or sell too cheap.
Francis on Friday went through trade after trade for jurors, displaying on a screen Litvak's electronic communications purporting to show how he would offer to arrange the purchase for a relatively small share of the price, even though he'd already boosted his profit well beyond that amount.
"The only way he gets away with that is by lying," Francis said.
In one message, Litvak told a client, "Believe me, I'm working for you, bro," insisting he was giving the client "full disclosure." In fact, the prosecutor said, Litvak was merely taking advantage of the wall between buyers and sellers.
"When it came to negotiating bond prices, Jesse Litvak knew everything," Francis said. "He took advantage of the secrecy to lie to victims who he thought would never be able to catch him."
Evaluating Evidence
Butswinkas at times mocked what he called the government's lack of hard evidence in the case. He said corporate policy guidelines used by Litvak's customers and phone calls between witnesses were never described at trial, even though they would have added context. 
Such evidence would have shown that Litvak's role in the transactions wasn't as significant as the U.S. claimed, Butswinkas said, and that the trader's clients' buying-and-selling decisions were made on a range of other data, including quantitative forecasting and proprietary research.
Butswinkas also told jurors the government had misled them into believing that Litvak and his clients were supposed to be on the same side of negotiations when in reality all the parties knew they were vying against each other for financial gain.
"They wanted you to believe that Jesse and these giant investment companies were sitting side by side instead of across the table," Butswinkas said. "Mr. Litvak was not an agent of the buyers or sellers."
The case is U.S. v. Litvak, 13-cr-00019, U.S. District Court, District of Connecticut (New Haven).
Before it's here, it's on the Bloomberg Terminal.
LEARN MORE