JPMorgan Profit Beats as Loan Quality, Bond Trading Improve
By
Earnings benefit from mortgage, energy-loan reserve releases

Bond-trading revenue rises 31%, beating analysts' estimates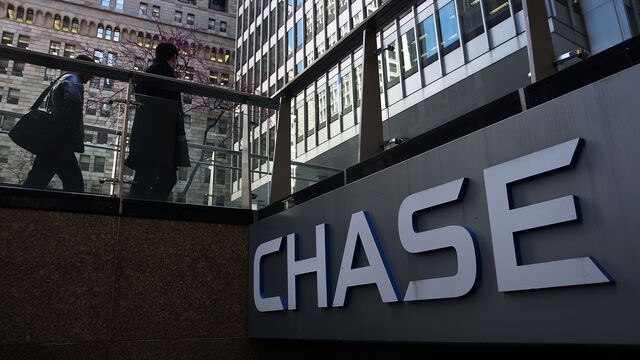 JPMorgan Chase & Co. said fourth-quarter profit rose 24 percent as the biggest U.S. bank set aside less money for bad loans and bond-trading revenue increased more than analysts estimated.
Earnings benefited from better credit quality among U.S. consumers and corporations, allowing the bank to pull about $400 million from bad-loan reserves in the mortgage, energy and metals businesses, New York-based JPMorgan said Friday in a statement. Fixed-income trading also contributed to the gains. Chief Executive Officer Jamie Dimon, 60, said last month that bond and stock trading volume was "much better" after the U.S. election.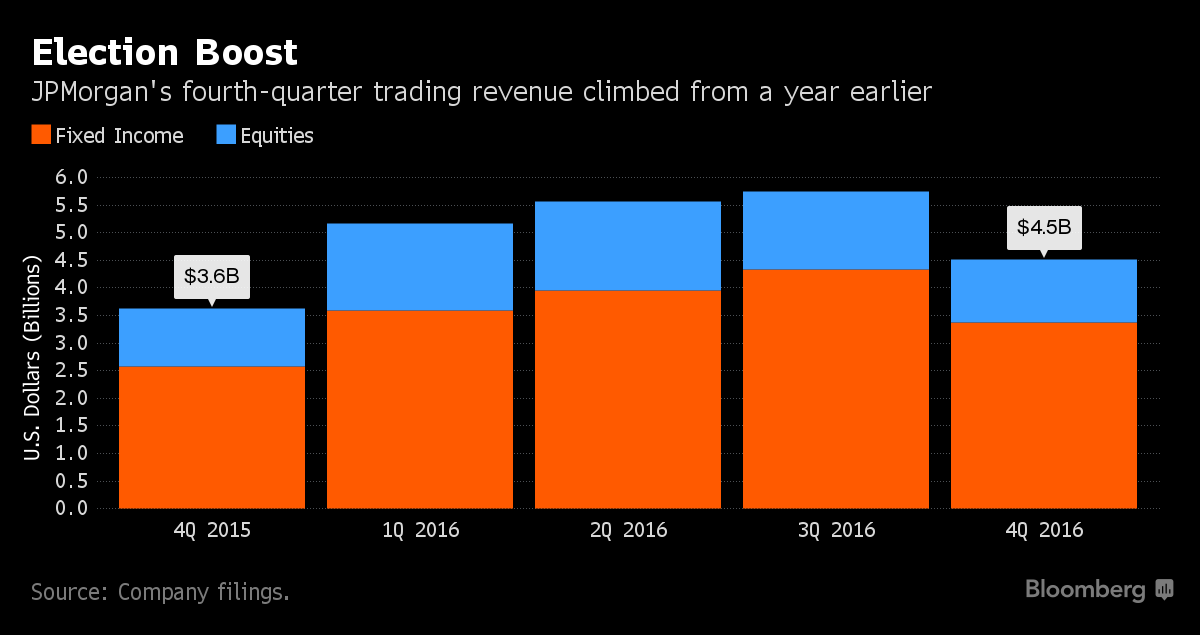 Net income increased to $6.73 billion, or $1.71 a share, from $5.43 billion, or $1.32, a year earlier. Adjusted earnings per share, which exclude a $475 million tax benefit, legal expenses and an accounting adjustment, were $1.62, beating the $1.43 estimate of 26 analysts surveyed by Bloomberg.
"Much of the earnings beat reflected much higher than expected results in the corporate and investment bank," UBS Group AG analyst Saul Martinez said in a note to investors. "Our first take is mostly positive."
JPMorgan rose 1.2 percent to $87.29 at 10:33 a.m. in New York. The stock has surged 25 percent since Donald Trump's surprise victory in the U.S. election as investors bet that the president-elect's tenure will bring lower taxes, higher interest rates and lighter regulation.
The provision for credit losses was $864 million, better than the $1.39 billion analyst estimate and down from $1.25 billion a year earlier. Revenue rose 2 percent to $24.3 billion, eclipsing the $24.2 billion average estimate. Expenses fell 3 percent to $13.8 billion, compared with the $14 billion estimate.
Bond Trading
Fixed-income trading revenue advanced 31 percent to $3.37 billion, topping the $3.26 billion average estimate. Equities-trading revenue rose 8.1 percent to $1.15 billion, less than analysts' $1.29 billion prediction.
Earnings at the corporate and investment bank, run by Daniel Pinto, almost doubled to $3.43 billion, fueled by a 32 percent jump in trading revenue. Expenses declined 6 percent. Investment-banking revenue rose 1 percent to $1.5 billion on lower advisory and equity-underwriting fees, compared with analysts' $1.59 billion estimate.
Profit from consumer and community banking, run by Gordon Smith, dropped 2 percent to $2.36 billion. Revenue was $11 billion, down 2 percent from a year earlier. Provisions for credit losses declined to $949 million from $1.04 billion a year earlier.
Card income slid 36 percent to $918 million. Dimon said last month that the new Sapphire Reserve credit card would reduce profit by $200 million to $300 million in the fourth quarter. The bank has said it was overwhelmed with interest in the product, which started with a sign-up bonus worth $1,500 in travel booked through Chase's website.
Net income in asset management, run by Mary Callahan Erdoes, increased 16 percent to $586 million. Commercial banking, the unit run by Doug Petno, posted a 25 percent profit increase to $687 million.
Bank of America Corp., the second biggest U.S. bank, reported a 43 percent increase in fourth-quarter profit earlier Friday. Wells Fargo & Co. said profit dropped 5.4 percent as revenue from its mortgage business declined. Morgan Stanley, Citigroup Inc. and Goldman Sachs Group Inc. are scheduled to post results next week.
— With assistance by Katherine Chiglinsky
Before it's here, it's on the Bloomberg Terminal.
LEARN MORE