Holiday Sales Outpace Forecast Despite Department-Store Woes
by and
NRF reports 4% gain in the U.S., topping the 3.6% prediction

Online sales jumped 13% during the November-December period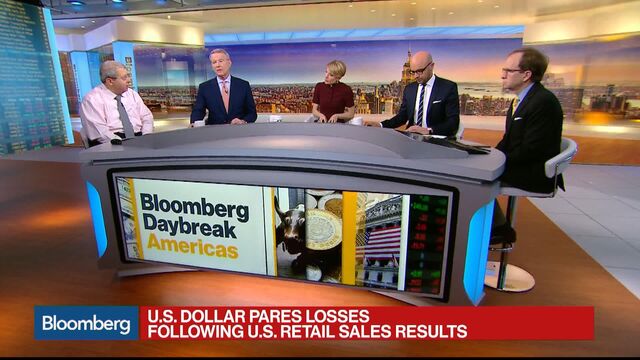 U.S. holiday sales grew a bit faster than expected, the National Retail Federation said, as surging e-commerce orders helped make up for weak department-store traffic.
Spending rose 4 percent to $658.3 billion during November and December, beating a 3.6 percent projection, the trade group said on Friday. Nonstore sales, an indicator of online transactions, jumped 13 percent.
The brighter picture suggests that the high-profile woes of Macy's Inc. and other department stores weren't shared by other retailers. With the unemployment rate low and wages rising, consumers took advantage of discounts and easy online ordering to check items off their holiday lists.
"These numbers show that the nation's slow-but-steady economic recovery is picking up speed and that consumers feel good about the future," NRF President Matthew Shay said in a statement.
The U.S. Commerce Department also reported improving retail sales on Friday, though those figures were helped by demand for autos -- something excluded from NRF data. The agency saw a 0.6 percent gain in December, following a 0.2 percent increase the previous month. For all of 2016, sales rose 3.3 percent, topping the 2.3 percent growth of a year earlier.
E-Commerce Growth
A separate report from payment-technology company First Data found that retail sales increased 3.6 percent from Oct. 29 through Jan. 2, up from a 3.3 percent gain in the year-earlier period. Online transactions increased 12 percent, the firm said earlier this month, accounting for 20 percent of overall holiday spending. That compared with 15 percent last year.
The Commerce Department saw sales declines at department stores and restaurants, as well as electronics and appliances merchants.
Macy's -- a company once synonymous with Christmas shopping -- spotlighted the challenges last week when it announced plans to cut about 6,200 jobs and push ahead with an effort to shutter roughly 100 stores. Altogether, the cutbacks will eliminate about 10,000 workers.
Holiday shoppers are spending more of their money elsewhere, Dana Telsey, head of consulting firm Telsey Advisory Group, said on Bloomberg Television.
The growth lies in companies like Lululemon Athletica Inc., Children's Place Inc. and cosmetics companies such as Ulta Salon Cosmetics & Fragrance Inc., she said. Regional department stores continue to struggle, she said.
"Consumers are shifting -- whether it's to autos, whether it's to home, whether it's to experiences," she said. "That's what's working."
Before it's here, it's on the Bloomberg Terminal.
LEARN MORE