benchmark
Here's Trump's Gift to Mario Draghi
A bigger-than-expected boost to inflation could be coming across the Atlantic
By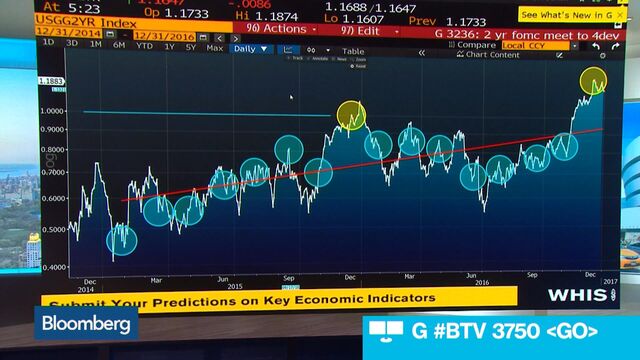 If investors continue to buy the dollar on the back of electoral promises by Donald Trump and a strengthening U.S. economy, that will be felt also in Frankfurt. 

That's according to Taha Saei, an economist at Oxford Economics, who argues that ECB President Mario Draghi and his fellow policy makers may be underestimating how fast inflation will rebound after the euro's latest declines.

In a new study, Saei examines a scenario where euro-area price growth averages 2 percent as soon as the second quarter of this year, and hovers around this level over the medium term. 

Saei's analysis is in sharp contrast with the ECB's own projections, which foresee inflation accelerating only to an average of 1.7 percent by 2019 -- "not really" in line with the central bank's goal of just under 2 percent, as Draghi himself admitted last month. The inflation rate for the 19-nation euro area rose to 1.1 percent in December.

The Oxford Economics study begs to differ, arguing that as the euro weakens -- potentially reaching parity with the U.S. dollar -- that will have a stronger impact on domestic inflation than the ECB calculates, and it won't be just a one-off effect. There are three reasons for this, Saei writes.

First, consumers buy more imported goods and services than they used to, in fact nine percentage points more than they did in 2009. Second, exporters to the euro area become more willing to adapt prices to that higher local demand. And as the euro's share as an invoicing currency has decreased, exchange rates simply matter more now.

"Underestimating the significance of the exchange rate pass through will provide the hawkish members on the governing council with ammunition to force a discussion on tapering, earlier than expected as inflation creeps above staff projections,'' he says.
Before it's here, it's on the Bloomberg Terminal.
LEARN MORE