French Socialists, Lagging in Polls, Clash Over Jobs
By
Seven leftist candidates are battling over party's primary

Polls show eventual winner trailing in general election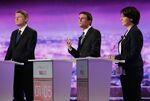 The seven candidates seeking the nomination of France's Socialist Party clashed in their first debate over the labor code and whether to introduce a basic minimum income.
Former Prime Minister Manuel Valls defended the liberalization of France's labor law, which he pushed through as prime minister. "There are things that we can debate, but I am convinced this law is an advance," Valls said.
Former Education Minister Benoit Hamon and former economy minister Arnaud Montebourg said they'd simply get rid of the law, which allows companies to negotiate contracts directly with their workers and in some cases make it easier to fire them. Former housing minister Sylvia Pinel said many aspects of the reform made France's economy more efficient.
The debate on Thursday evening was the first of three ahead of their primary. Polls show that whoever wins is unlikely to survive the initial ballot in France's presidential elections in April behind the conservative Republican Francois Fillon, Marine Le Pen of the anti-European National Front and former economy minister Emmanuel Macron.
The candidates, who include another former education minister -- Vincent Peillon -- and two ecological campaigners -- Jean-Luc Bennahmias and Francois de Rugy -- all belong to a federation of left-wing parties that agreed to organize the primary, which will be held over two rounds on Jan. 22 and Jan. 29. Fillon won the center-right primary in November.
Universal Wage
An Elabe poll taken right after the debate showed that none of the front-runners managed to stand out, with 28 percent of viewers most likely to vote in the primary saying Valls was the most convincing. Twenty-seven percent picked Hamon and 23 percent Montebourg. The Internet poll was based on 1,117 people of whom 368 were supporters of France's leftist parties.
The debate highlighted disagreement over Hamon's call for a basic universal wage to be paid to all French residents, which he said is needed to confront an increasingly automated workforce and could be paid for by higher taxes on multinational companies. Peillon said it would be too expensive and called for investment in technology. Montebourg said he'd create jobs by increasing government spending and challenging European Union deficit limits.
Montebourg was one of the few candidates to raise European issues, saying that euro-zone rules limiting budget deficits to 3 percent of economic output were "archaic, absurd, and have lost all credibility." Valls said a low deficit was crucial for France to maintain control over its economic policies, and Peillon called himself a "committed European" but didn't expound. None of the candidates ever mentioned Britain's vote to leave the European Union.
Terrorist Attacks
The candidates had a common stance on terrorism, all paying tribute to how incumbent President Francois Hollande handled the 2015 attacks in France.
A Harris Poll released Jan. 5 showed Valls getting 43 percent of the vote in the first round of the primary on Jan. 22, followed by Montebourg with 25 percent and Hamon at 22 percent. In the second round, Valls would beat either candidate by at least 10 percentage points, it showed.
A separate Kantar Sofres poll released Jan. 9 showed Valls winning the first round with a narrower score of 36 percent, and then losing a theoretical run-off to Montebourg by 6 percentage points while in a dead heat with Hamon.
Polls have unanimously found that whoever emerges from the primary will finish a distant fourth or fifth in the April 23 first round of the presidential election. Some polls even show Valls or Montebourg finishing behind Jean-Luc Melenchon, who is running with the backing of the Communist party. 
Hollande cleared the path for Valls last month when he said he wouldn't run to prevent the divisions on the left that could favor extremist parties. Valls, 54, faces the task of defending his 2 1/2 years as premier under Hollande, the least popular president in French history. He dropped many proposals that he'd made earlier in his career such as getting rid of France's 35-hour work week.
Before it's here, it's on the Bloomberg Terminal.
LEARN MORE