Ethics Chief Scolded as Congress Squares Off Over Trump's Plans
By
GOP lawmaker's clash with ethics agency dates to 2015

Democrats fired back at Chaffetz letter as intimidation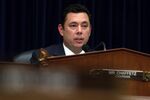 An unusual rebuke of President-elect Donald Trump by the top U.S. ethics official has touched off a partisan clash in Congress, where lawmakers are preparing for battle over how Trump is handling potential conflicts of interest in his business empire.
In a letter dated Jan. 12, Representative Jason Chaffetz, the Utah Republican who chairs the House Oversight Committee, told Walter Shaub Jr. that he'd overstepped his mandate as director of the Office of Government Ethics on Wednesday. Shaub publicly criticized Trump's plan to step down from leading his businesses, but retain his ownership interests.
"Your agency's mission is to provide clear ethics guidance, not engage in public relations," Chaffetz wrote in the letter on the day after Shaub denounced Trump's plan to put his business interests into a trust managed by his two adult sons. Chaffetz summoned Shaub for a closed-door interview to explain his actions later this month.
"He's taking positions he's not even looked at," Chaffetz said during an interview on Fox News. "He seems to be in the spin room for Democrats."
Shaub's agency didn't respond to a request for comment Friday, but congressional Democrats fired back at Chaffetz.
Twitter Postings
"The Oversight Committee has not held one hearing, conducted one interview, or obtained one document about President-Elect Donald Trump's massive global entanglements, yet it is now apparently rushing to launch an investigation of the key government official for warning against the risks caused by President-Elect Donald Trump's current plans," Representative Elijah Cummings, the panel's ranking Democrat, said in a statement. "The committee should do its job under the Constitution and investigate his sprawling business deals around the world."
Shaub's OGE, a normally publicity-shy agency, has assumed an unusually high profile during the transition. It began in November with a series of Twitter postings, in which Shaub prematurely -- and incorrectly -- congratulated Trump for agreeing to divest. "Brilliant! Divestiture is good for you, good for America!" read one of the postings -- all of which misinterpreted a Trump statement that, as president, he'd have no conflicts of interest.
Trump has repeatedly noted that the president is exempt from a federal ethics law that requires executive-branch officials to resolve or limit any conflicts between their public roles and their private investments. Still, for decades, executive-branch policies have held that the president should act as if the law did apply.
Trump's Plan
In announcing his plan Wednesday, Trump said his companies would take steps to limit his conflicts, including a ban on new international business deals. Also, he said, his hotels would pay any profits derived from foreign-governments' spending to the U.S. Treasury.
Just hours after Trump announced his plans Wednesday, Shaub decided to take the stage at a Brookings Institution event to call Trump's plan to step down from leadership roles "meaningless from a conflicts of interest perspective." Shaub's remarks underlined the extent to which several ethics specialists in government and on both sides of the political aisle worry that Trump's business interests could influence the president's decision-making -- or lead to questions about his motives.
At the same time, though, a conservative group has already questioned the motives of Shaub, who was appointed to a five-year term as OGE's head by President Barack Obama in 2013. "The American people deserve to know if Walter Shaub has turned the ethics office into an arm of the Senate Democrats' Campaign of Obstruction," said Scott Sloofman, rapid response director at America Rising, a for-profit company set up to do opposition research on Democrats. The group has filed government-information requests, seeking any correspondence between Shaub and Democratic senators.
Task Force
As the minority party in Congress, Democrats have limited ability to investigate Trump's businesses. This week they set up the Democracy Reform Task Force, a group of House Democrats led by John Sarbanes of Maryland that aims to examine issues of ethics and conflicts of interest in the Trump administration. The task force will monitor Trump and his appointees, Sarbanes said in a Facebook posting that announced the group.
"I find it shocking that instead of working to ensure that President-elect Trump's administration adheres to basic ethical standards and puts the people's interest first, Chairman Chaffetz has decided to focus his energy and attention on partisan attacks directed toward the Office of Government Ethics," Sarbanes said Friday in a statement.
Chaffetz's office didn't respond to a request for comment Friday.
Prior Clash
Some ethics experts questioned Chaffetz's letter. "The idea of calling Shaub in for a private interrogation out of public view is heavy-handed and a form of intimidation," said Kathleen Clark, a law professor at Washington University.
Chaffetz has clashed with Shaub before, a fact he mentions in his letter. In December 2015, at an otherwise routine oversight subcommittee hearing, Chaffetz grilled the ethics official over his office's conclusion, publicly announced, that Hillary Clinton was not required to disclose the source and amounts of millions of dollars of speaking fees paid directly to the Clinton Foundation.
Shaub said his office was applying the complex ethics laws, but admitted they had not examined the particular circumstances of the speeches, which included addresses paid for by foreign governments and banks.
"You shuffle paperwork, there's no consequence, there's no accountability," Chaffetz said during that 2015 hearing. "There's no review and there's no investigations. Why do we need you?"
Before it's here, it's on the Bloomberg Terminal.
LEARN MORE