Disney CEO's Pay Falls But $60 Million 2018 Bonus in Reach
by and
Iger's annual incentive dropped on financial results

Will get 2018 bonus if Disney hits operating income target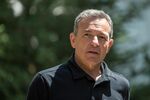 Walt Disney Co. Chairman and Chief Executive Officer Bob Iger received $43.9 million in compensation in fiscal 2016, a 2.3 percent decline from the prior year. He's in line to receive a $60 million bonus in fiscal 2018 if the company hits a certain target.
Iger's pay included a $20 million cash incentive tied to metrics including operating income and return on invested capital, according to a proxy statement filed Friday. The payout, which makes up about half of his total package, dropped about 10 percent from the previous year. Iger also got equity awards worth $17.3 million, consisting of stock options and restricted shares that vest over three years if certain goals are met.
Disney reported record sales and profit in the fiscal year ended Oct. 1., boosted by film releases including "Star Wars: The Force Awakens" and growth in its theme-park and consumer-products businesses. Chief Financial Officer Christine McCarthy said in November that earnings-per-share growth in fiscal 2017 will be "modest." The company has only seven films scheduled for release and faces an 8 percent jump in cable TV programming costs due to a new contract with the National Basketball Association.
Failure to extend Disney's six-year streak of record earnings could hamper Iger's chances of securing a cash bonus of as much as $60 million. It'll pay out if he achieves $78.3 billion in operating income over the five years ending Sept. 29, 2018. The company recorded $15.7 billion in fiscal 2016 and must increase operating profit by about 7.2 percent in each of the next two years to reach the hurdle. Iger, 65, will get a smaller payout if Burbank, California-based Disney logs at least $76 billion over the five-year period.
The CEO also received a $2.5 million salary and perks including security services worth $869,476. He's a recurring figure on the Bloomberg Pay Index, which ranks the 200 top-paid U.S. executives at public companies. The index values all compensation packages, including equity awards, as of each company's year-end stock price. The figures can therefore differ from those disclosed in regulatory filings.
Like many other companies in media and entertainment, Disney's executives receive the bulk of their compensation in cash. General Counsel Alan Braverman and CFO McCarthy received pay packages worth $11.1 million and $10.2 million respectively, of which about half came from their cash bonuses. Chief Strategy Officer Kevin Mayer got $10.1 million and Chief Human Resource Officer Jayne Parker was paid $5.6 million. Businesses in other industries tend to rely more on equity awards to pay top bosses.
Thomas Staggs, Iger's former heir apparent who left his job as chief operating officer in May and remained an adviser through fiscal 2016, received reported compensation of $21.8 million for his final year. The package included a $7 million cash bonus. Due to his resignation, equity awards worth $6.18 million were forfeited, putting his actual pay at $15.6 million.
Before it's here, it's on the Bloomberg Terminal.
LEARN MORE